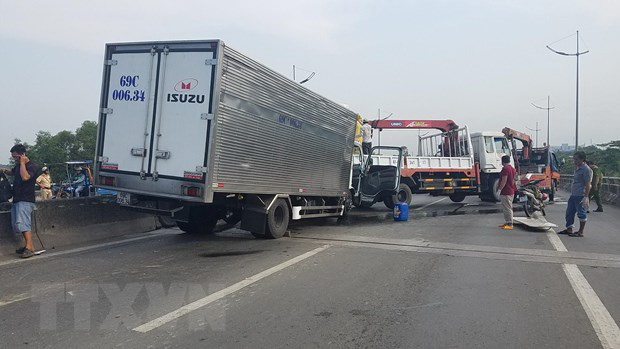 HCM CITY — Two people were killed and another injured at around 5am on Thursday (April 18) after a truck collided with a crane truck on Võ Trần Chí Street in HCM City's Bình Chánh District, according to district police.
After the crane truck, which was travelling on Võ Trần Chí Street, broke down near the Chợ Đệm Bridge in the district, the driver stopped the truck in the lane closest to the median for inspection.
While the driver and his assistant were making a repair, another truck travelling in the same direction struck the crane truck. The impact killed the drivers of the two trucks, Ngô Triều Mến, 27, from Cà Mau Province, and Nguyễn Thành Công, 31, from Vĩnh Long Province.
The assistant of the crane truck suffered minor injuries after being thrown over the median.
The accident, which seriously damaged both vehicles, caused traffic congestion on Võ Trần Chí Street.
Soon after the accident occurred, Bình Chánh District police quickly appeared at the scene, guiding other vehicles to cross the road to reduce traffic congestion. — VNS