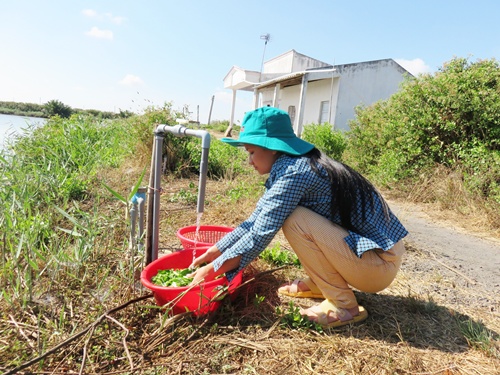 A free water tap in Tiền Giang Province. — Photo baotintuc.vn
TIỀN GIANG — A total 86 public water taps will supply fresh water to more than 5,000 households suffering from drought and saltwater intrusion in the Mekong Delta province of Tiền Giang.
The taps, costing more than VNĐ500 million (US$21,300), will supply water to people in the coastal area of Gò Công District throughout the dry season which will last until June.
The area is often hit by severe droughts and saltwater intrusion in the dry season, affecting rice, vegetable and fruit production.
The move aims to support disadvantaged areas where local people lack access to fresh water and have to buy water.
Local authorities also ordered the dredging of fresh water ponds managed by Tiền Giang Water Supply One Member Limited Company.
Eleven water pipes will be installed in Gò Công Town to bring fresh water from Đồng Tâm Water Plant in Mỹ Tho City, located 50km from the town.
Tiền Giang authorities also plan to construct seven other water supply structures with investment of more than VNĐ18.2 billion ($775,000) to support dry areas.
In the following years, investment in water supply works in rural areas is expected to exceed VNĐ145 billion ($6.1 million).
In 2016, the Gò Công area faced severe drought and saltwater intrusion, which destroyed more than 5,000ha of rice and thousands of hectares of vegetables and fruits, according to the provincial Department of Agriculture and Rural Development. — VNS