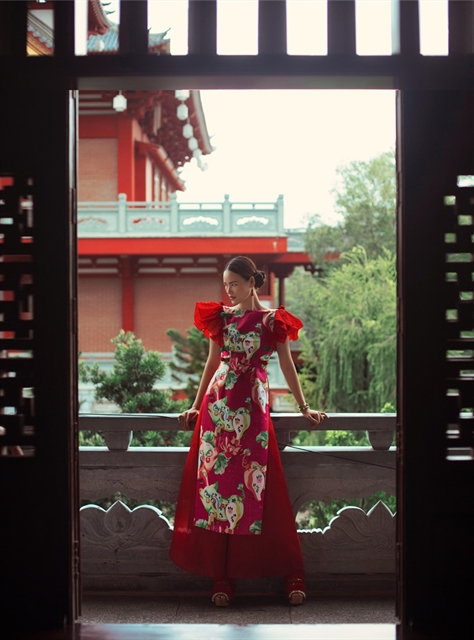 Fashion model Tuyết Lan will wear a design from fashion designer Thủy Nguyễn during the show Tình Tang (Folk Sound) in HCM City on April 17. — Photo dep.com.vn
HCM CITY — Fashion designer Thủy Nguyễn will organise the show Tình Tang (Folk Sound) in HCM City next week to celebrate the last eight years of her career.
The show will feature her latest collections of more than 60 áo dài designs on a stage with sound and light effects.
Her designs are a combination of simplicity and utility in natural colours, including áo dài in high-quality materials like satin, silk and velvet.
Thủy uses not only red and black, her favourite colours, but also vibrant elements like lemon green, golden yellow, mid-night blue, scarlet and lotus pink.
Her clothes are inspired by Đông Hồ paintings, a folk woodblock art printed on paper from the bark of the dó tree by artisans from Đông Hồ Village in the north with colours made from natural materials.
Each of her design features traditional cultural values of the country.
Thủy has worked with catwalk director Xuân Lan and composer Ngô Hồng Quang on the catwalk event.
"I wanted my collection to be a mixture of luxury fashion and simple real life in the áo dài. I hope my trends will be popular among urban women every season of the year," sai Thủy, founder of the fashion brand Thủy Design House.
Although she likes working on ready-to-wear and luxury designs, Thuy said in a recent interview with local media that that if Vietnamese designers do not create áo dài for formal and informal uses, "they will remain amateurish".
"My designs' shapes are distinctly Vietnamese," said the 38-year-old.
Thủy, a native of Hà Nội, began her love for fashion after moving to live with her husband in Ukraine in 2003. She studied painting at school but is self-taught at fashion design.
In December, her oil-on-canvas painting, Sương Mù Đỏ Thẫm (Dark Red Fog) (160x160cm), sold for US$100,000 in an online auction at Sotheby's.
The (RED) Auction 2018 for the Global Fund aimed to raise money to prevent and treat HIV/AIDS among people living on the outskirts of the Saharan region in Africa.
Her painting, which featured a foggy, red sky, was the only included work from Việt Nam.
The auction gathered big names in the art world like Jeff Koons, Sean Scully, Ai Wei Wei, Wangechi Mutu, Sir Jonny Ive, Marc Newson, Christo, Marilyn Minter, Frank Gehry, Guillermo Kuitca and Teresita Fernández.
In 2016, Thủy was invited to be a costume designer for Cô Ba Sài Gòn (The Tailor), an award-winning romantic comedy produced by movie star and producer Ngô Thanh Vân.
The film features Vietnamese women living in Sài Gòn (now HCM City) in the 1960s. The city's traditional culture and lifestyle are also highlighted.
It was screened and honoured at the 22nd Busan International Film Festival in Busan, Korea in 2017.
Its leading character, young actress Ninh Dương Lan Ngọc of HCM City, was named Face of Asia at in the category Asia Star Awards 2017. She shared the title together with three actors from South Korea, Japan and Thailand.
In Cô Ba Sài Gòn, Thủy worked hard to create all áo dài creations. Her art highlights the timeless beauty of the Vietnamese dress.
Thủy has worked for several TV shows and with top artists and fashion icons.
She is also a founder of The Factory Contemporary Arts Centre, a cultural centre that encourages young artists in different fields.
Tình Tang will attract 30 fashion models, including top faces such as Tuyết Lan and Mâu Thủy.
The show will take place at 7pm on April 17 at the Continental Saigon Hotel at 132-134 Đồng Khởi Street in District 1.— VNS