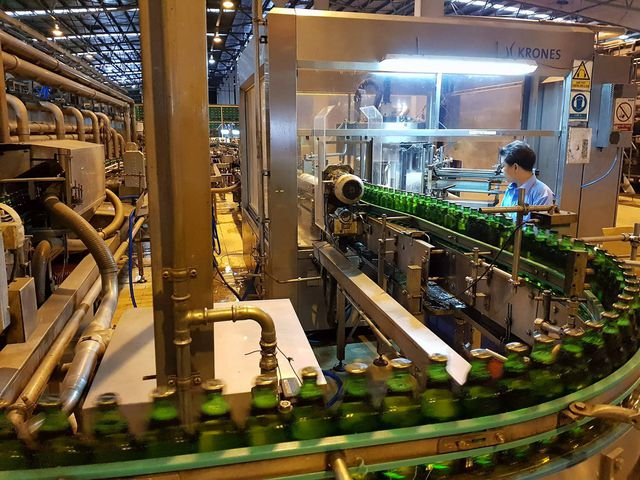 Shares of Sabeco dropped 6.4 per cent on Thursday, the biggest loser among the VN30. — Photo voatiengviet.com
HÀ NỘI Shares declined further on Thursday amid rising investor caution, but foreign investors took the chance to increase their holdings.
On the Hồ Chí Minh Stock Exchange, the VN-Index decreased more than 1 per cent to close the session at 962.3 points. The southern market index lost 2.1 per cent in the last three sessions.
On the Hà Nội Stock Exchange, the HNX-Index gave up another 0.64 per cent to end at 105.75 points.
The northern market index fell 1.8 per cent this week.
Liquidity dropped when more than 193 million shares worth total VNĐ3.6 trillion (US$155 million) changed hands on the two bourses, down 15 per cent in volume and 26.5 per cent in value compared to the previous trade.
According to market insiders, selling pressure was increasing amid weak demand, which was reflected by low liquidity, showed rising investor caution.
Banking stocks which performed well in the morning such as Vietcombank (VCB), Vietinbank (CTG), BIDV (BID) and Techcombank (TCB) were under selling pressure and declined or retreated to reference price in the afternoon session.
Many speculative stocks in the securities, oil and gas, real estate and garment and textile sectors also slumped.
Losers included big companies such as Saigon Securities Inc (SSI), PV Gas, PetroVietnam Drilling and Wells Service (PVD), PetroVietnam Technical Service (PVS), Coteccons Construction (CTD), Vingroup (VIC) and Vinhomes (VHM).
Among the VN30 (which tracks the top 30 shares by market value and liquidity on the Hồ Chí Minh Stock Exchange), brewer Sabeco was the biggest loser, down 6.4 per cent
Some bucked the trend and posted gains including Vinamilk (VNM), Vincom Retail (VRE), budget airline Vietjet (VJC) and FPT Corp (FPT). However, their gains were modest of less than 1 per cent and failed to lift the market.
"The market failed to recover due to strong selling pressure in midcap and penny. Short-term profit-seeking opportunities are shrinking very quickly," said Khải Trần, a stock analyst at Viet Dragon Securities Co, in a daily report.
"Investors should prioritise risk management at this time," Khải said.
Meanwhile, foreign investors extended their net buying streak this week. They were responsible for net buy value of more than VNĐ195 billion in the three markets including the Unlisted Public Company Market (UPCoM).
Their net buy value totalled about VNĐ600 billion this week.
Their buys continued to focus on blue chips, especially three "Vin" stocks including Vingroup, Vincom Retail and Vinhomes which totalled net value of VNĐ78.5 billion on Thursday. — VNS