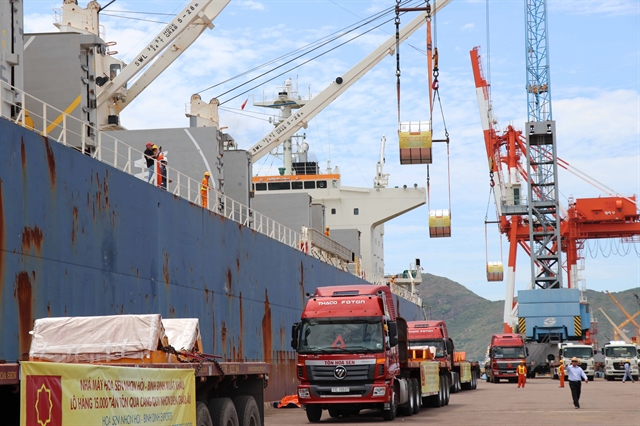 A shipment of 15,000 tonnes of Hoa Sen iron sheets exported to Europe at Quy Nhơn Port. Shares of Hoa Sen Group hit the floor price of 7-per-cent deline on Wednesday. VNA/VNS Photo Phạm Kha
HÀ NỘI – Shares slumped for a second day this week as investors continued to offload stocks due to fears of a steeper decline.
On the Hồ Chí Minh Stock Exchange (HOSE), the VN-Index fell 0.52 per cent to close Wednesday at 972.10 points.
On the Hà Nội Stock Exchange, the HNX-Index edged down 0.64 per cent to close the session at 106.43 points.
Both stock indices dropped by less than 1 per cent in the previous session.
Several stocks unexpectedly hit their floor price (maximum daily decrease of 7 per cent on HOSE), making investors nervous and driving them to sell.
The biggest losers included steelmaker Hoa Sen Group (HSG), Sông Đà Urban & Industrial Zone Investment and Development (SJS), An Phát Plastic & Green Environment (AAA) and construction firm Licogi 16 (LCG).
'Vin' stocks including Vingoup (VIC), Vincom Retail (VRE) and Vinhomes (VHM) fell between 1.2 per cent and 2.7 per cent.
Other heavyweight shares were mixed. Vinamilk (VNM), Vietinbank (CTG), Eximbank (EIB), Sacombank (STB) and Coteccons Construction (CTD) slumped but Vietcombank (VCB), Techcombank (TCB), brewer Sabeco (SAB), Mobile World Investment (MWG) and FPT Corp (FPT) advanced.
Among oil and gas stocks which declined on Wednesday, PV Gas (GAS) also increased 1.4 per cent and cushioned the market.
Liquidity improved over the previous session with a total of 227.2 million shares worth VNĐ4.9 trillion (more than US$209 million) traded on the two exchanges, up 29.5 per cent in volume and 35.3 per cent in value compared to Tuesday's figures.
Opposing domestic investors' moves, foreign investors continued to comb local shares. They were responsible for total net buy value of VNĐ200 billion in the two markets, lifting two-day net buying value to more than VNĐ400 billion.
Their buys focused on large caps such as Masan Group, PV Gas, Vingroup, Vinhomes and Vietcombank.
According to BIDV Securities Co (BSC), the market is adjusting and market liquidity is higher than previous sessions but is still quite low, showing increasing investor caution.
Việt Nam was the exception of most Asian markets, which have gained strongly in recent sessions. Investors were advised to continue to monitor macroeconomic developments in the world, especially the US-China trade war, BSC wrote in its daily report.
"The market is expected to recover in upcoming sessions," said Trần Xuân Bách, a stock analyst at Bảo Việt Securities Co. However, Bách said the market would continue to experience a wide divergence among stock groups.
Stocks with positive results, including textiles, fisheries, information technology and other stock groups at their supporting zones such as oil and gas, and banks are expected to rebound, he said. – VNS