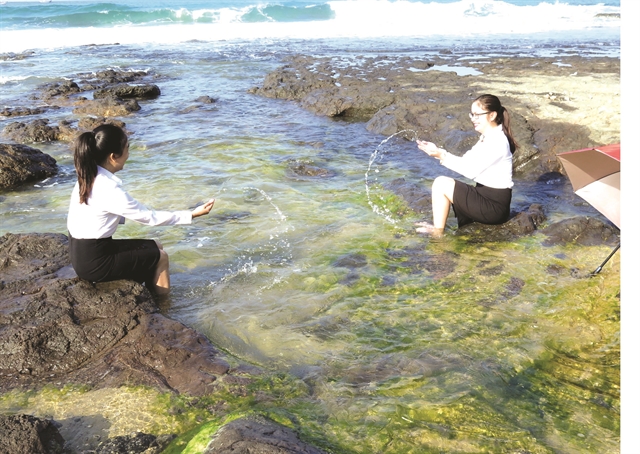 These girls like paddling in shallow water. VNA/VNS Photo Phước Ngọc
by Vĩnh Trọng
The central province of Quảng Ngãi is endowed with beautiful, pristine and untouched natural beauty.
The province possesses 129km of coast, which is dotted by high cliffs running along the sea.
There are many beautiful beaches like Sa Huỳnh, Đức Minh, Mỹ Khê, Khe Hai and Lệ Thủy.
A small beach, embraced by cliffs, Lệ Thủy is as beautiful and elegant as its name. Lê Thủy Beach or Việt Thanh Bay is located in Bình Trị Commune, Bình Sơn District, 20km northeast of Quảng Ngãi City.
Lệ Thủy Beach has been compared to a beautiful woman embraced by cliffs by many local writers. Over thousands of years, the black stones and cliffs have been covered with moss and scattered fields of onions. The area is reminiscent of Lý Sơn Island in the same province, which is why many people call Lệ Thủy a small, inland version of Lý Sơn.
Thanks to the moss, various kinds of fish and crabs make their home here, while the beach is ideal for swimming due to the shallow water.
From here, you can see Bình Hải Bay in the distance and Nam Châm Mountain heading to the sea.
From the high cliffs, one can see romantic scenes of sunsets and sunrises.
The beach is most beautiful in the afternoon, when tourists can walk in the cool water and on mossy stones while watching sea animals swimming.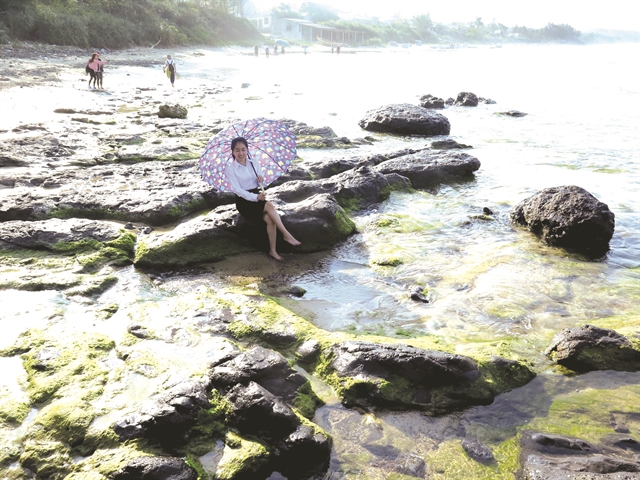 The beach with mossy stones is a popular photo shoot site for tourists. VNA/VNS Photo Phước Ngọc
There are also large caves up on the cliffs to explore if you're a bit more adventurous or fancy a gander at some stalagmites and stalactites as well as having an overview of the bay.
"The sea is blue with natural stones," said Lương Trần Uyên Dung, from nearby Nghĩa Hành District. "It's a mysterious landscape so every time I'm stressed; I come here with my friends to relax."
The local soil and weather is similar to Lý Sơn Island and locals plant onions in terraced fields, using natural coral and stones to border their fields. Of course, the area has some great and cheap local seafood delicacies.
Nguyễn Văn Đạt, from Đà Nẵng, said he liked the beautiful pristine landscape on his first trip to Lệ Thủy Beach.
"The beach is ideal for developing sea tourism," he said.
Huỳnh Kim Ngân, head of Bình Sơn District's Culture – Information Department, said like Đà Nẵng, Lệ Thủy has mossy stones and cliffs running to the sea.
"The site is located at the threshold of the local global geopark, so it has more values in terms of history, culture," she said.
She said the locality has introduced local tourism potential to travel agencies in and outside the province.
Ngân also added that locals' lives have been improved by opening more services for tourists in recent years.
As it's not chockablock with tourists, Lệ Thủy Beach is tranquil and clear.
The site is also a popular photo shooting site for young couples and photographers. VNS