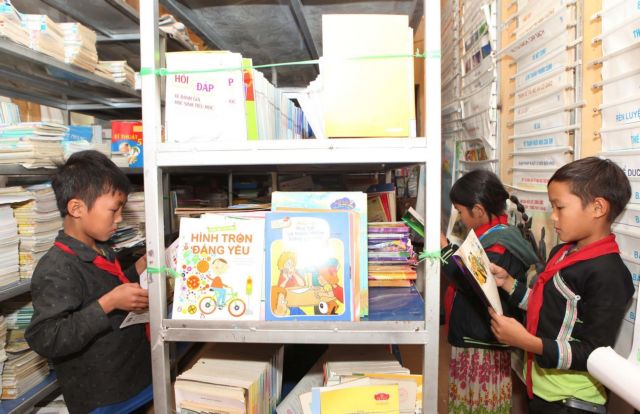 Students read books in the Hố Mít Commune Primary School library in Tân Uyên District, Lai Châu Province. Improving students' critical thinking is a potential method of preventing school violence, according to experts. — VNA/VNS Photo Quý Trung
HÀ NỘI — There is no better way to respond to school violence than by preventing it from happening.
Minister of Education and Training Phùng Xuân Nhạ stressed prevention mechanisms as an essential tool to fight the emerging trend of assaults on campus in a webinar live-streamed from Hà Nội yesterday.
Việt Nam has witnessed a sharp increase of school violence in recent years. Nhạ said some of the causes are students' psychological changes during puberty and negative societal influences.
The educational sector must be the vanguard responsible for handling the issue, Nhạ said.
According to the minister, the response should start in education schools. Trainee teachers need to be equipped with psychology training in addition to academic knowledge.
Principals and teachers were also urged to develop prevention mechanisms against violence.
The ministry has issued 25 directives related to school assault prevention, yet little improvement has been made, said Bùi Văn Linh, deputy head of the Department of Student Affairs.
These documents touch upon specific solutions such as establishing a hotline to report violence and requiring commitments from schools and students' family to fighting school assaults.
"Education universities are given the autonomy to build their own training on psychological consultation for teachers, which are expected to complete by the end of 2019," Linh said.
Speaking at the event, psychology expert Trần Thành Nam from Việt Nam University of Education said school violence is a global issue.
He cited a study by UNESCO revealing that about 22 per cent of Vietnamese students aged 13 to 15 have participated in fights. The percentage in other countries may fluctuate from 30 to 40 per cent.
Việt Nam can learn from international experiences in preventing school violence including improving students' critical thinking and defence skills and organising school-based intervention programmes for students at risk of violence.
Last week, MOET issued a code of conduct for kindergartens and schools to create a more student-friendly environment and reduce violence on campus.
In three first months of 2019, some 310 cases of school assaults were reported, mostly at secondary and high schools, according to Đặng Hoa Nam, director of the Department of Children Affairs under the Ministry of Labour, Invalids and Social Affairs.
Several videos of student brutal beatings were shared online in late March and early April. — VNS