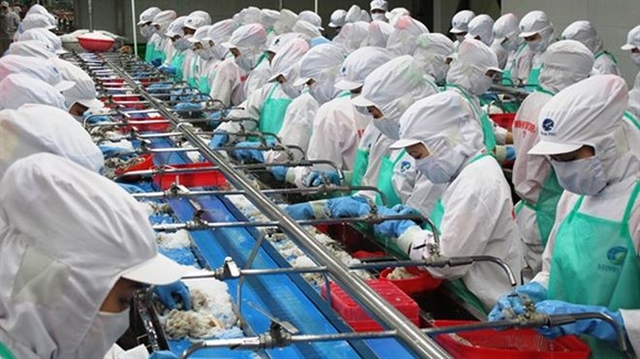 Minh Phú Seafood Corporation plans to sell more than 75.7 million shares in a private deal to raise VNĐ3.7 trillion (US$159 million) to provide additional capital for production and business activities. Photo tinnhanhchungkhoan.vn
HÀ NỘI — Minh Phú Seafood Corporation (HoSE: MPC) plans to issue privately 75.72 million shares to raise VNĐ3.7 trillion (US$159 million) in 2019.
The company will use 45 per cent of the funds, or VNĐ1.7 trillion, to improve its financial capacity. The remainder will be used to fund production and sales activities.
The share issuance was approved in late February 2019 by the company's board of directors. The company last week gained approval of the State Securities Commission on the deal.
The company will offer shares to both domestic and international investors that are financially healthy and willing to accompany the firm in the long term.
The shares will be unavailable for trading in one year since the issuance date.
At the annual shareholder meeting in January, Minh Phú announced that Japanese, South Korean and US investors had been in talks with the company to buy shares.
The expected price is estimated at more than VNĐ48,800 per share.
The company has 140 million shares on the Hồ Chí Minh Stock Exchange under code MPC.
The company's shares edged up 0.7 per cent to close Tuesday at VNĐ46,100. VNS