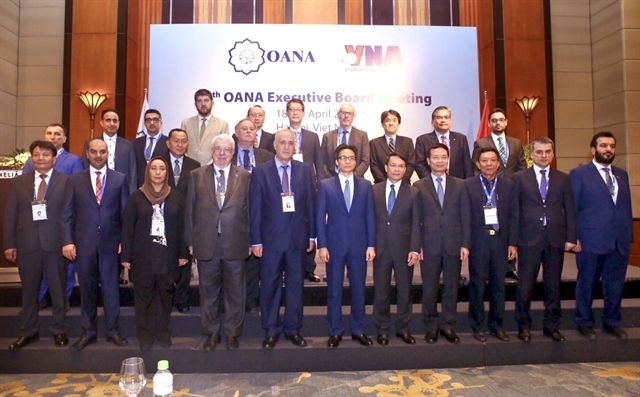 Deputy Prime Minister Vũ Đức Đam (first row, middle) and delegates pose for a photo at the opening of the 44th Executive Board Meeting of the Organisation of Asia-Pacific News Agencies (OANA) in Hà Nội yesterday. The meeting is themed 'For professional and innovative journalism'. — VNA/VNS Photo Minh Quyết
HÀ NỘI — The rapid proliferation of so-called fake news had led to a decline in public trust in news media, so countries around the world needed to take drastic action to change the status quo.
This was agreed by participants at the 44th Executive Board Meeting of the Organisation of Asia-Pacific News Agencies (OANA) that officially opened in Hà Nội on Friday.
This year's event saw the attendance of 40 international delegates, including influential news agencies such as Azertac (Azerbaijan), TASS (Russia), Xinhua (China), Kyodo News (Japan), Yonhap (the Republic of Korea) and AAP (Australia).
Hosted by the Việt Nam News Agency (VNA), the meeting focused on three main subjects: strategies of news agencies in response to changes in information use behaviour which focus on video clips and the YouTube platform; fake news and fact-checking; and regaining trust for mainstream news.
In his opening speech, VNA General Director Nguyễn Đức Lợi, who is also a member of the Communist Party of Việt Nam's Central Committee (CPVCC), said in the last five decades since it became an OANA member in 1969, the VNA had been an active member of the organisation and made various contributions to enhance the development of journalism in the Asia-Pacific.
"The hosting of the 44th OANA Executive Board Meeting once again affirms the role and voice of the state news agency of Việt Nam in this multilateral press forum, the largest of its kind in the region," he said.
According to Lợi, the world's population now stands at 7.7 billion, of whom 52 per cent are internet users. They use the internet not only to communicate but also to provide information. This has created fierce competition against mainstream news.
"As such, press agencies are not only competing with each other, but also with their own traditional readership who are using social networking platforms to spread information. While the press needs to verify information, conduct interviews and collect relevant data to provide objective information to the public, many organisations and individuals are using social media accounts to spread unlimited amounts of unchecked and subjective information with only one click, some with negative intentions of making profits and causing social chaos," Lợi said.
Furthermore, the co-existence of real and fake information across many communication platforms had made the public lose faith in mainstream news, he said.
Addressing the opening ceremony, Deputy Prime Minister Vũ Đức Đam, a member of the CPVCC, said in recent years, in the wake of numerous forms of communication based on modern technologies as well as fast and widespread fake news, the OANA not only served as a direct channel to provide information to news organisations and partners but also as a fact checker to help bolster public trust in the traditional press.
Đam said since the renewal era, Việt Nam had made development efforts which had been recognised and appreciated by the international community.
During that journey, the Vietnamese press had been standing side by side with the country, he said, adding there were currently almost 100 news organisations in Việt Nam that employed 41,000 workers, of which 19,000 were journalists.
"The 44th OANA Executive Board Meeting in Hà Nội has significant meaning as it marks the 50 year the VNA has been part of the OANA. We believe the 44th OANA meeting will bring a breath of fresh air to the development of the organisation as well as member agencies," Đam said.
OANA President Aslan Aslanov, who is also Chairman of the Board of the Azerbaijan State News Agency (AZERTAC), said the VNA was one of the most active members of OANA and its Executive Board.
By organising the meeting and demonstrating its commitment to excellence and professionalism in the news industry, the VNA had once again proved itself to be a leading media outlet in the region, he said.
Fake news storm
According to VNA Deputy General Director Lê Quốc Minh, Việt Nam is not an exception in the fake news storm.
"It is worrying that Facebook newsfeeds, YouTube channels and Google are full of fake news, while users naive enough to like and share them, and even the mainstream media runs this false information," Minh said.
Việt Nam was in the world's top 10 countries with the largest number of social media users, Minh said, adding that Vietnamese people spend on average 2 hours 37 minutes every day on social media.
According to Minh, thousands of websites were booming to feed hungry audiences with sensational and fake news. When a typhoon was hovering offshore Việt Nam, a number of Facebook users live-streamed videos with captions like "Typhoon No 6 Live", "Typhoon is destroying my home village" or "Typhoon is so horrible". In fact, they'd used a video of a typhoon in the Philippines.
In June 2016, a number of newspapers and news websites ran a story about an eleven-year-old boy in Gia Lai Province who committed suicide because he did not have a new T-shirt for the school year. There was no such incident but the massive coverage on mainstream media led to an outcry about ethnic discrimination.
"To regain the audience's trust in mainstream news, we need to come back to the core values of journalism, professionalism, balance and multi-dimension. Journalists need to verify information carefully, especially amidst the spread of fake news, and improve the quality of their products, enhance professional ethics, and master new technologies in the working process," Minh said.
OANA president Aslanov remained steadfast that members with their long-standing reputations as premier news services served as "a shield" against unverified information and news that plagued and confused society.
"Our principles of identifying and fact-checking before publishing have earned us high confidence. That's why OANA is truly a team of the most reliable news producers," he said.
"As long as there are news agencies that hold on to the principles of journalism, society can feel safe, because although fake news is widespread, we are capable of retaliating with accurate and reliable news," Aslanov said.
Lee Dong-min, a representative of the Yonhap News Agency, said the Republic of Korea's media outlets were improving their fact-checking mechanisms to prevent spreading fake news and allowing readers to decide what the facts were when there were conflicting versions of stories.
She spoke about Yonhap's fact-checking team, which was officially launched in April 2018 as part of the newsroom and its video fact-check service named "Weekly Fact Check" to deal with fake news on YouTube. Yonhap had tried to monitor the spread of fake news on the internet and distorted articles in the media, Lee said.
At the closing ceremony, the Executive Board announced the OANA Award for Excellence in News Agency Quality, which is designed to further experience exchange between OANA members and to improve the quality of making news.
The Việt Nam News Agency and Xinhua News Agency (China) shared the first prize for their Chatbot apps on e-newspaper Việt Nam Plus and AI Media Brain.
TASS news agency of Russia won second prize for the Astronauts database project and the Azertac State News Agency of Azerbaijan secured third prize for its knowledge portal for children Portal.azertag.az.
The OANA was established on December 22, 1961 as an initiative of the United Nations Educational, Scientific and Cultural Organisation (UNESCO). It aims to facilitate information dissemination and exchange between news agencies in Asia-Pacific – a dynamic region that makes up more than half of the global population.
OANA members, including many major agencies, are responsible for two-thirds of information circulated throughout the world. Everyday, they publish around 200 news stories, photos and video clips on the OANA website at http://www.oananews.org/.— VNS
VNA to work with Emirates News Agency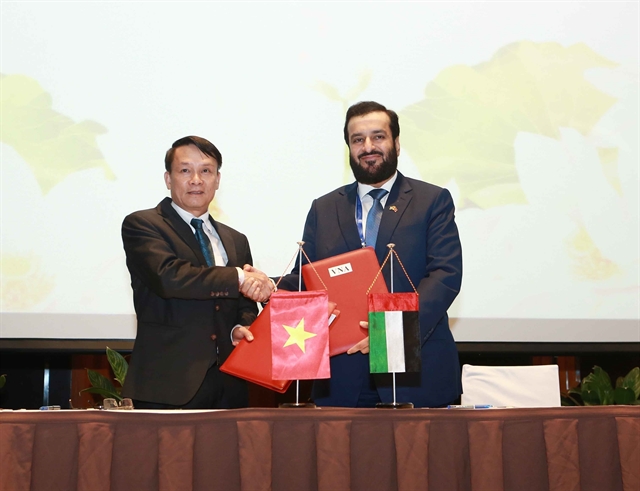 VNA Director General Nguyễn Đức Lợi (left) and Emirates News Agency – WAM Executive Director Mohamed Jalal Al Rayssi at the signing ceremony of their co-operation deal yesterday.— VNA/VNS Photo Thành Đạt
In Hà Nội on Friday, the VNA and the Emirates News Agency (WAM) of the United Arab Emirates (UAE) agreed to establish professional co-operative relations, aiming to provide the public in their respective countries with information on political, social, economic and cultural life in each country.
This content was underlined in a Memorandum of Understanding (MoU) on bilateral co-operation signed by VNA Director General Nguyễn Đức Lợi and WAM Executive Director Mohamed Jalal Alrayssi.
According to the MoU, the two sides agreed to exchange English news, photos and video news on a daily basis, which will be published on their respective news channels and provided for press agencies in Việt Nam and the UAE for use.
The two news agencies will also arrange professional exchanges between reporters and editors.
The WAM was founded in November 1976 and started publishing news serving foreign audiences on the politics, society and economy of the UAE in June 1977.
At present, WAM's news is published in 13 languages, including English, Russian, German, French, Spanish, Chinese, Italian, Turkish and Hindi on the website http://wam.ae.