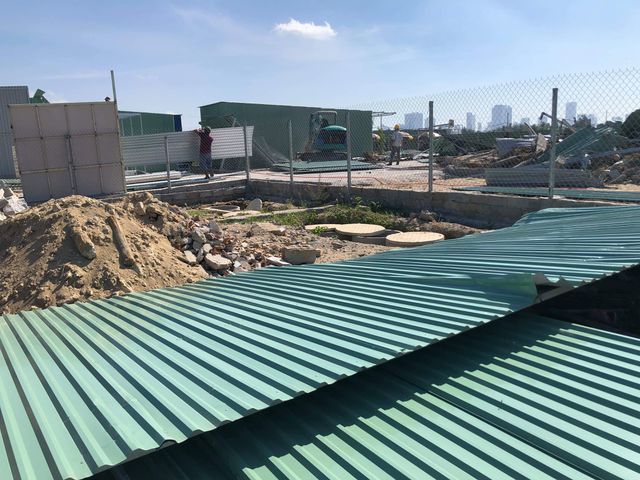 The site of unregistered houses in Nha Trang, Khánh Hòa Province, which are being razed. — Photo dantri.com.vn
KHÁNH HÒA — Dozen of houses built illegally on land slated for a development project in the city of Nha Trang, Khánh Hòa Province, are being demolished, according to Vĩnh Thái Commune People's Committee.
About 45 illegal houses in Vĩnh Thôn Village are on the demolition list, the committee said.
An official from the committee said on Monday that local authorities had dismantled 25 houses and the remaining demolitions should be completed on Friday, online newspaper dantri.com.vn reported.
The houses were built quickly on the site of the planned Vĩnh Thôn Village in an effort to gain resettlement fees when the project is built, according to the People's Committee of Nha Trang.
More than 100 houses were illegally built in just a few days on 27ha of land set aside to build the administrative centre of Vĩnh Thái Commune.
Many unplanned residential areas were also built in other communes, especially in Phước Đồng, and Vĩnh Thái communes.
In 2018, more than 600 households with at least 2,700 residents resided in spontaneous residential settlements. They are ineligible for permanent residence registrations.
Chairman of Khánh Hòa Province Lê Đức Vinh recently admitted that the illegal houses have long existed in Nha Trang, with many of them being constructed in areas at risk of landslides.
"The existence of houses in these localities resulted from poor government management at all levels from commune to province," the chairman said.
In order to deal with the problem, he directed the Nha Trang People's Committee to demolish illegal houses in the coming months, firstly focusing on houses in Vĩnh Thái Commune and then moving on to other communes. VNS