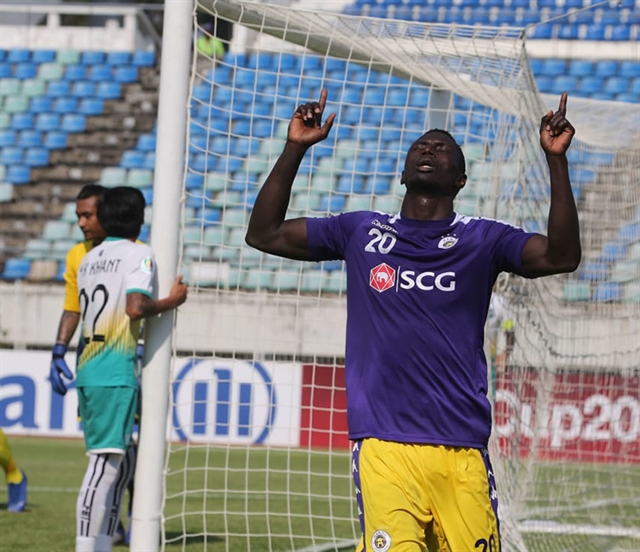 Hà Nội FC's Pape Omar Faye scores a hattrick in his team 5-2 win over Yangon United in the AFC Cup on April 17. — Photo the-afc.com
Hà Nội FC took revenge by beating Yangon United 5-2 in their second meeting in Asian Football Confederation Cup's Group H action yesterday in Yangon, Myanmar.
The Vietnamese champions came from behind to take a win with a hat-trick from Pape Omar Faye and a double by Ganiyu Oseni at the Thuwunna Stadium.
Sekou Sylla and Vinicius Miller scored for the host side, both in the first half.
Having lost by a goal to nil to the Myanmar champions in their previous encounter two weeks ago, Hà Nội were determined to take all three points.
Coach Chu Đình Nghiêm's men enjoyed the perfect start, scoring the opener in the third minute.
National team star Nguyễn Quang Hải squared the ball in Yangon's penalty area to Faye who simply tapped in to score.
Ten minutes later Sylla finished from close range to level the score, before Miller put the minnows ahead in the 26th minute with a shot into the bottom right corner, but that was as good as it got for the home side.
Oseni scored twice in the first half to put Hà Nội ahead at the break.
The visitors dominated the second half with many dangerous attacks; with midfielder Trần Văn Kiên's free kicks causing caused chaos in Yangon's box.
Phạm Thành Lương and Hoàng Vũ Sam Sơn also tested the Yangon goalkeeper but both failed to find the net.
Faye was the man of the match with two quick goals in the 81st and 83rd minutes, completing his first hat-trick this season.
Oseni nearly completed his treble near the end of the match but his shot was denied by the crossbar.
In the next fixture, Hà Nội will travel to Phnom Penh to face Naga World who in third place while Singapore's Tampines Rovers will host Yangon United, with both games on May 1. — VNS