HCM CITY — Companies in the footwear and apparel industries shared promising business practices and policies at the Good Business Practice Forum held in HCM City on Tuesday.
The forum, organised by the Vietnam Chamber of Commerce and Industry (VCCI) and UNICEF, served as a platform for more than 100 businesses and key business stakeholders to share international and national good practices, lessons learnt and ways forward to promote child rights through family-friendly workplace policies and practices.
PouYuen Vietnam of HCM City has, for instance, raised awareness of the issue of breastfeeding at the workplace and plans to introduce policies to support nursing mothers and popularise the use of the breastfeeding room during working hours.
Holistic parenting training has been rolled out in Pou Chen Việt Nam in Đồng Nai Province to raise awareness of issues like health, nutrition, play, positive parenting, and child safety, and there are plans to expand it.
Minh Anh factory in Hưng Yên Province has installed eight water filters in the production area, up from just one at the canteen. It encourages migrant workers to take water home since their rented accommodation could have unsafe water.
"It is extremely important that businesses in any sector, of any size understand that they have an impact on children and young people through their workplace policies and practices," Nazia Ijaz, corporate alliance specialist, UNICEF Vietnam, said.
"In addition to avoiding or reducing the negative impacts, we encourage businesses go beyond compliance or national legislation as part of their corporate social responsibility.
"We aim to continue our collaboration with the business sector to invest in the well-being of their employees and their children through family-friendly workplace policies and practices."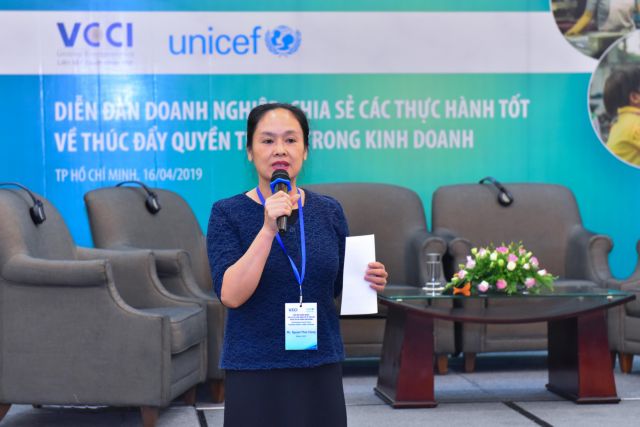 The Good Business Practice Forum promotes child rights through family-friendly workplace practices. — Photo Courtesy of UNICEF Vietnam
Recommendations were made to document good practice case studies and lessons learnt for widening awareness through foreign and national business groups.
The importance of public-private collaborations and other stakeholders such as global brands and non-government organisations was discussed at panel discussion sessions.
Last month the Ministry of Planning and Investment carried out research activities and developed guidelines to integrate sustainable development goals related to children in socio-economic planning, said Võ Tân Thành, vice president of the Việt Nam Chamber of Commerce and Industry.
This indicates the interest agencies at various levels have in children-related issues, he added.
This event was held as part of a collaborative project between UNICEF and the VCCI for promoting Children's Rights and Business Principles (CRBP) among Enterprises in Việt Nam. — VNS