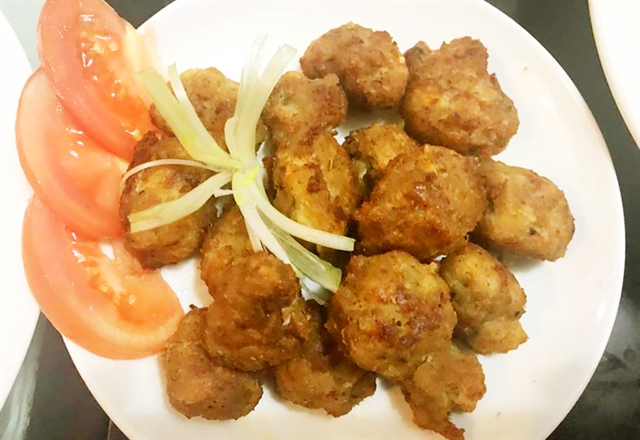 Chả cá bơn is a must-try for anyone visiting Cô Tô Island in Quảng Ninh Province. Photo baoquangninh.com.vn
Hồ Hoàng
Quảng Ninh is not only well known for the beautiful Hạ Long Bay, but also its tasty seafood.
These delicious dishes delight both visitors and local diners, including chả cá dưa and chả cá bơn – fried minced dưa (a kind of conger eel) and bơn (halibut) fish.
I was lucky enough to enjoy chả cá dưa (fried dưa) while visiting my friend Lê Ngọc Long who comes from Quảng Ninh Province.
Long's mother Trần Thị Đào told me that her husband, a fisherman, had caught some dưa early that day.
"The eel looks angry but its meat is very lean, tasty and especially suitable to make fried minced eel," she said.
Long's father Lê Ngọc Lượng said this kind of eel lives in warm sea or river areas and is popular in the province's Ngọc Vừng and Cô Tô islands.
"I've been working as a fisherman for many years but only a few times have I caught dưa, I decide to give the eel to my relatives and friends as a special gift," he said, noting that his wife can cook chả cá dưa very well.
Đào said to have a good dish she has to choose fresh and grown dưa fish that has a thick body, but the most difficult stage is gutting the eel from its backbone but one should be very careful not to break its organs as they cause the meat to taste bitter.
"After gutting, I often use a spoon to grate the lean meat. This way helps me to remove almost all bits of bone that make the dish less tasty," she said.
Long's mother mixed the fresh dưa with its attractive pink colour with spices, minced dried onion, garlic, dill, peppers, pork and several spoons of rice powder.
Đào then the mix into a stone mortar to grind it until it was fine then she kneaded it into small balls and fried them until they turned yellow, with fragrances wafting towards my watering mouth.
The finished dish is crispy, aromatic and deliciously greasy. "The dish can be eaten with normal rice or sticky rice and with noodle soup," she said.
The next day, Long led me to visit her aunt Lê Thị Hoài on Cô Tô for a taste of her delicious bơn (halibut).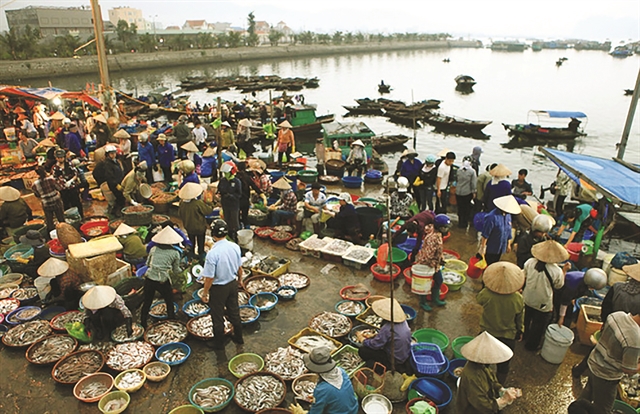 BUSTLING: With an abundance of fresh fish, Quảng Ninh is known for its busy seafood markets. — Photo halongtourism.com.vn
Hoài said bơn on the island is much tastier compared with other areas, as the island's red bơn fish are best for frying, she told me.
Hoài asked Long and me to go with her to the beach to wait for a boat to return full of the delicious fish.
Luckily for us, when we arrived at the beach, the boat also came ashore, and a fisherman told Hoài he had saved several kg of fresh bơn fish for her.
Hoài said for a good bơn dish, several fresh squid and peeled shrimps and quality fish sauce are needed as well as the Long's mother used to make fried dưa.
"The added squid and shrimp makes the dish more aromatic, sweet and greasy compared with other fried fish," she said, noting that visitors to Cô Tô love this dish.
Herbalist Tạ Huân said fried dưa and bơn are very good for people's health as they are full of nutrition and vitamins A, B2, B12, and PP.
"They are particularly good for the cardiovascular system because they contain a lot of omega3," Huân said. — VNS