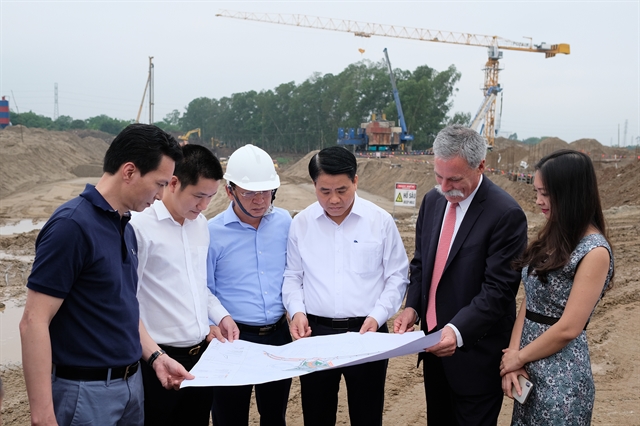 Chairman of the Hanoi People's Committee Nguyễn Đức Chung (third left) and F1 CEO Chase Carey (second left) inspect the construction site. — Photo courtesy of Việt Nam Grand Prix Company
HÀ NỘI — Chase Carey, president and CEO of the Formula One Group, visited the Mỹ Đình racetrack in Hà Nội on Monday. He was impressed with the city's preparations in collaboration with the Việt Nam Grand Prix Company for the F1 event in Hà Nội next year.
Carey said F1 was lucky to have wonderful partners like the Hà Nội authority and Việt Nam Grand Prix Company.
Visiting the construction of the racetrack, Carey saw its swift progress and expressed his excitement to welcome the event in Việt Nam next year.
According to him, Hà Nội and Việt Nam Grand Prix are preparing well. F1's representatives and partners in Hà Nội have had many meetings to share information and define that what each involved party must do to organise the event.
While receiving Carey to discuss preparations, chairman of the Hà Nội People's Committee Nguyễn Đức Chung said the city will prepare the best possible infrastructure, meeting new requirements set by the International Automobile Federation (FIA).
At the meeting, Chung said Hà Nội is working with relevant agencies on transportation and customs procedures, and moving towards visa exemptions for foreign spectators coming to the event.
He took the occasion to ask Formula One Group to help Hà Nội learn from and connect with firms responsible for hosting the race in other locations around the world to ensure the quality of the event.
For his part, Carey vowed to help the city ensure successful organisation of the international event, thereby promoting the image of Hà Nội and Việt Nam.
Carey also highlighted the values brought by F1 and how the race can contribute to the economic growth of the city.
Carey said that besides maintaining traditional racetracks every year, F1 works with other cities around the world to build new tracks. F1 selected Hà Nội because of its rapid development. This is a chance for F1 to draw new spectators and create a fresh face for the event.
Carey said he hopes F1 and Hà Nội will establish a long-lasting relationship, noting how long F1 has had traditional racetracks in England and Monaco. He also said he hopes F1 will become a new symbol of Hà Nội.
Construction of the racetrack began on March 20. The circuit will be more than 5.5km in length with 22 turns. It will take drivers through part of the Mỹ Đình Sports Complex, while one section will be part of a public road.
Additional space has been zoned off for the construction of a control centre, a grandstand, warehouse, parking lot and helipads to serve racing teams and spectators. — VNS