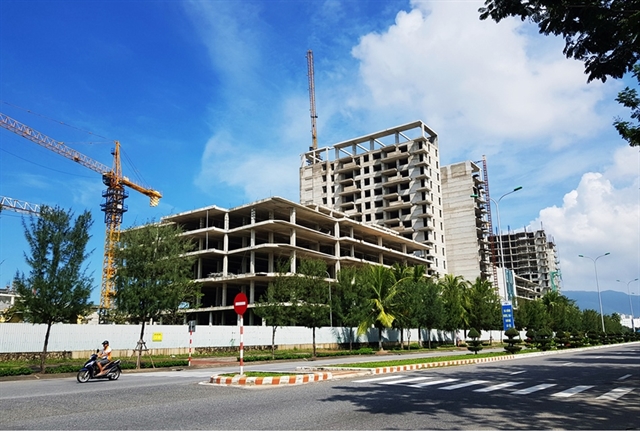 The domestic property market showed stable development in the first quarter of this year. – Photo danangz.vn
HÀ NỘI — The domestic property market showed stable development in the first quarter of this year with the emergence of potential new property trading regions.
So said experts at a press conference on the first-quarter performance of Việt Nam's property market held by the Việt Nam Association of Realtors (VARS) in Hà Nội on Tuesday.
According to VARS, the national real estate market continued its stable development. Potential real estate markets have appeared in some northern and central provinces such as Cao Bằng, Bắc Cạn, Hòa Bình, Bình Định, Phú Yên, Lâm Đồng and Bình Thuận.
The market saw investment flow to provinces and cities neighbouring Hà Nội and HCM City such as Vĩnh Phúc, Bắc Ninh, Bắc Giang and Thái Nguyên in the north and Long An and Đồng Nai in the south.
The VARS also said some localities experiencing stagnation in the real estate market may recover in the second quarter. Property supply will increase sharply compared to the first quarter as projects get permission to develop from State management agencies.
The main supply continues to be apartment products, primarily affordable and mid-end units. The volume of transactions will also increase sharply compared to the first quarter because of high supply. Real estate prices may increase slightly in all segments.
Nguyễn Văn Đính, the Việt Nam Real Estate Association's deputy general secretary, said some places has seen rumours and misinformation pushing up prices, creating local bubbles in Quảng Nam, Đà Nẵng and Vân Đồn, but development in those markets was controlled.
Local authorities have paid attention to State management of investment activities and trading of real estate services in Vân Đồn and Quảng Ninh to ensure sustainable development of the property market, according to the association.
Nguyễn Hoàng Nam, general director of Grandhome, said Vân Đồn is a market with great potential for economic and tourism development, making it attractive for investors. Nam said approved plans will make Vân Đồn one of the most attractive tourist destinations in Asia.
Vân Đồn has attracted investment from many of the country's large real estate developers such as CEO, Vin Group, FLC, Sun Group, BIM and HD Mon.
Phú Quốc in Kiên Giang Province is also considered an emerging market. Đăng Đức Giới, general director of the Special Zone Real Estate Development Joint Stock Company, said Phú Quốc is expected to show sustainable growth in coming years. Land prices are expected to increase by 3-5 per cent and the market is likely to secure more long-term investments.
The nation has two other notable potential markets: Khánh Hòa and Đà Nẵng. Experts said their strength is due to investment from the State budget and domestic and foreign real estate developers to create quality urban infrastructure.
The potential for investment in residential and resort developments in the two localities is still high despite a recent slowdown caused by policies that have led investors to transfer some of their work to neighbouring provinces.
Đính said that in the first months of the year, demand for real estate increased in Hà Nội and HCM City even as supply decreased.
Housing property prices have increased slightly. The two markets had a number of hot areas, but the situation was under control. VNS