HCM CITY— The 2019 Steps Challenge is a community event meant to raise awareness of autism and bring appropriate care and access to special education to hundreds of thousands of children with the disorder in Việt Nam.
The event, organised by Saigon Children's Charity CIO (saigonchildren) in partnership with property company CapitaLand, will take place on May 25 in HCM City's District 2.
It is a free event designed for the community with activities suitable for various participants.
For six weeks before the event, saigonchildren and CapitaLand will run an online social campaign, #stepupforautism.
It is expected to gather up to 100 million steps from participants and supporters through the internet.
Everyone can join by taking photos of the number of steps they have walked or run and posting on social networks with the hashtag #stepupforautism.
Each step, each photo and each shared hashtag will raise awareness of autism and autism education around the community.
At the Steps Challenge event, CapitaLand Hope Foundation, CapitaLand's philanthropic arm, will donate US$25,000 if participants can together reach 10 million steps.
Singer Uyên Linh, rapper Suboi, VJ – Youtube creator Dustin Phúc Nguyễn, Helly Tống, actress Thu Trang, Youtube creator Hana Giang Anh, and writer Trang Hạ will take part in the event.
saigonchildren was founded in 1992 to help disadvantaged children get an education and a fairer start in life.
It is committed to overcoming barriers to education for children, including poverty, geography, knowledge, and disability.VNS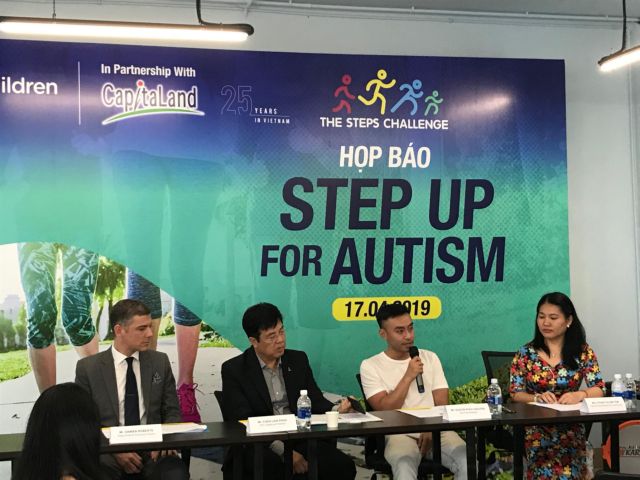 saigonchildren and CapitaLand Vietnam will organise a community event next month to raise awareness of autism. VNS/Photo. Gia Lộc