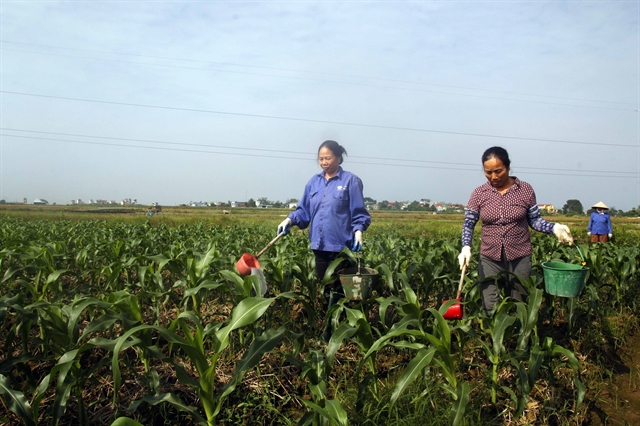 Wokers of the Nhân Lý Co-operative in the northern province of Vĩnh Phúc water corn plants. — VNA/VNS Photo Quang Quyết
HCM CITY — The 2nd Co-operative Registrars' Forum on "Creating enabling legal frameworks and policies to promote sustainable development of co-operatives in the 21st century", which opened on Wednesday in HCM City, discussed trends in the 21st century and their impact on co-operatives, and legislation and policies that affect co-operatives in relation to new and emerging areas.
At the three-day forum, experts are exchanging knowledge and best cases in creation of an enabling environment, and discussing collaboration between government and the cooperative movement in addressing current socio-economic issues and working towards implementation of Sustainable Development Goals, Li Chunseng, president of The International Cooperative Alliance – Asia and Pacific (ICA-AP), said
Vương Đình Huệ, Deputy Prime Minister, speaking at the forum, said that cooperatives play an important role in the country's economic development. With strong support and experience from ICA-AP, the number of successful cooperatives in Việt Nam had increased from 10 per cent in 2016 to more than 50 per cent now.
The contribution of the country's cooperatives to Gross Domestic Product (GDP) continued to increase year by year and the income of cooperative members were also 20-30 per cent higher than non-cooperative members, he said.
However, the country's cooperatives also face difficulties as Việt Nam has not yet built a legal framework to allow cooperatives to establish a business or access bank loans.
"I have visited many countries that allow cooperatives to establish a business, and the revenue of cooperative businesses are billions of dollars per year," he said.
Currently, very few cooperatives in Việt Nam can access bank loans. Many cooperatives face a lack of funds to restructure or invest in high technology.
As many as 220 delegates from registrars, government representatives, ICA-AP member organisations, international agencies, and co-operatives from Việt Nam are attending the forum.
Nguyễn Ngọc Bảo, chairman of the Việt Nam Co-operative Alliance (VCA), who spoke at the conference, said the VCA is holding a four-day Trade Promotion Fair for Cooperatives 2019 through Saturday this week in HCM City.
As part of the forum, 350 pavilions from many countries and territories such as South Korea and Japan are showcasing agro-forestry and seafood products, while the remaining pavilions will display handicrafts, and industry and service products at Hoa Lư Stadium on 2 Đinh Tiên Hòang Street in HCM City's District 1 until Saturday.
The agro-forestry and seafood products on display are produced under VietGAP and GlobalGAP standards, Bảo said.
The forum was organised by ICA-AP in collaboration with the Vietnam Co-operative Alliance (VCA). — VNS