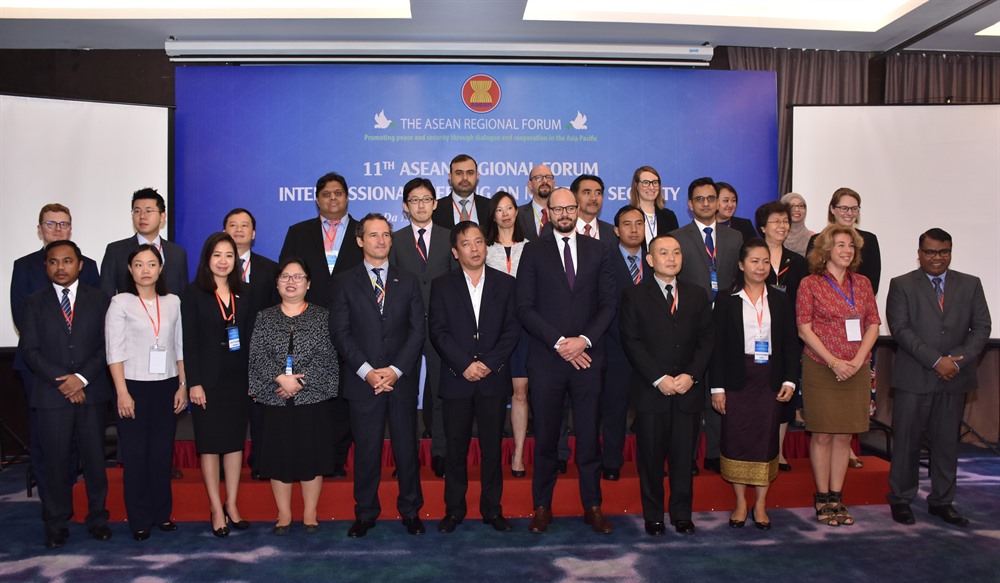 Delegates of the 11th ASEAN Regional Forum (ARF) inter-sessional meeting on maritime security pose for a photo. The meeting convened in the central city of Đà Nẵng on Thursday with the participation of some 80 experts from across the region. — VNA/VNS Photo Đinh Văn Nhiều
Viet Nam News
ĐÀ NẴNG — Some 80 experts from across ASEAN gathered in the central city of Đà Nẵng on Thursday to discuss regional co-operation in the field of maritime security.
They were speaking at the 11th ASEAN Regional Forum (ARF) inter-sessional meeting on maritime security, organised by Việt Nam's Ministry of Foreign Affairs in collaboration with Australia's Department of Foreign Affairs and Trade, and the European Union.
At the meeting, experts reviewed the region's maritime security situation and co-operative mechanisms, the results that have been achieved and the challenges that remain.
They also shared information on policies applied at the national level, and various matters related to maritime safety, the environment and sustainable development.
Co-operation activities that took place since the beginning of the year were also part of the discussion. They included a meeting on the application of the 1982 United Nations Convention on Law of the Sea (UNCLOS) in the coastal city of Nha Trang on February 26-27, and a workshop on Enhancing Regional Maritime Law Enforcement Co-operation in Đà Nẵng in March 12-13.
The meeting continued on Friday, with delegates expected to propose new initiatives for the ARF's action plan in the 2019-20 period.
Established in 1994, the ARF aims to promote dialogue and co-operation among ASEAN countries in politics and security, contributing to peace, stability and the trust-building process in the region.
The forum currently has 27 members. Việt Nam, Australia and the EU are co-chairs of the forum's activities on maritime security in the 2018-20 period. — VNS