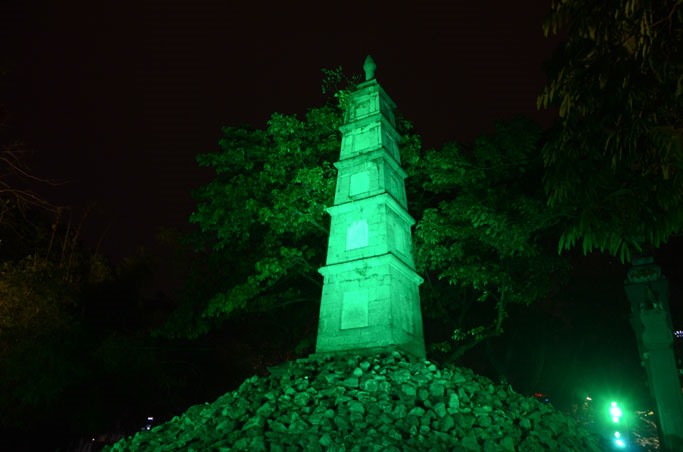 Pen Monument by Hoàn Kiếm Lake will join 400 of the world's most famous landmarks to celebrate St Patrick's Day by going green. — Photo courtesy of the embassy
Viet Nam News
HÀ NỘI — Hà Nội's historic Pen Tower next to Hoàn Kiếm (Returned Sword) Lake will be lit up in green on Saturday along with 400 of the world's most famous landmarks to celebrate St Patrick's Day – Ireland's national day.
The Ireland Day festival will start at 1pm on Saturday.
Various cultual activities including games, sports and a performance by the Traditional Irish Music Society of University College Cork will take place.
Every year on March 17, Ireland and its people celebrate Ireland's national day. With up to 70 million people around the world having Irish ancestry and many more friends of Ireland, St Patrick's Day is a worldwide celebration.
Since 2010, the 'Ireland's Global Greening' initiative has grown to become a major worldwide campaign in which landmark sites around the world, such as the Empire State building in New York, City Hall in London and the Great Wall of China 'turn green' to mark St Patrick's Day.
The Ireland Day festival, a family-friendly public event, will be organised by the Friends of Ireland in Việt Nam. There will be cultural activities, Irish music and fun games for all ages.
Over 26,000 Irish visitors travel to Việt Nam each year, and there is a resident Irish community of over 1,000 who are particularly active in education and business.
Images of Hà Nội "going green" have been included in material released by Tourism Ireland as part of a global promotion campaign. In 2017, Hà Nội became the first city in Southeast Asia to take part in the campaign. — VNS