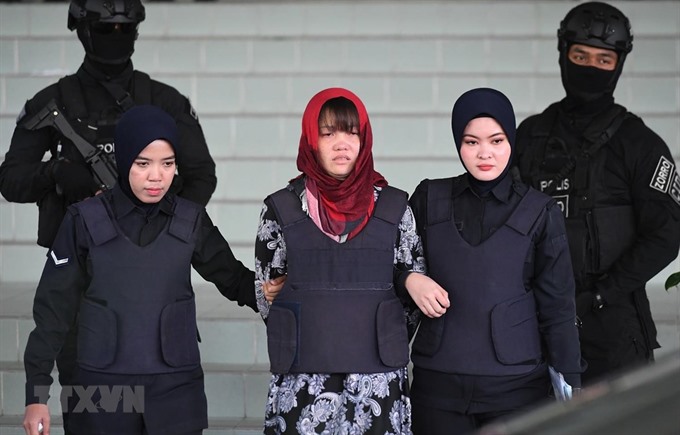 HÀ NỘI — Việt Nam had repeatedly petitioned Malaysia to ensure a fair trial and the legitimate rights of Đoàn Thị Hương, a suspect in the murder of a Democratic People's Republic of Korea (DPRK) national at Kuala Lumpur airport in 2017, the foreign ministry's spokeswoman has said.
Speaking at a ministry press conference on Thursday, Lê Thị Thu Hằng said that Việt Nam had been taking measures to ensure the legitimate rights and interests of Hương.
On Tuesday, Deputy Prime Minister and Foreign Minister Phạm Bình Minh spoke via phone with Malaysian Foreign Minister Saifuddin Abdullah to discuss several issues, including the trial.
A day later, Minister of Justice Lê Thành Long sent a letter to Attorney General of Malaysia Tommy Thomas. The following day, Deputy Foreign Minister Nguyễn Quốc Dũng met Malaysian Ambassador to Việt Nam Zamruni Khalid to ask the Malaysian court to ensure the fair trial and release of Hương, said Hằng.
The spokeswoman said that soon after the incident occurred, the Ministry of Foreign Affairs directed related agencies to meet Hương and her family, as well as find lawyers and witnesses as regulated by Malaysian law and international practices.
Hương and an Indonesian woman, Siti Aisyah, were accused of poisoning the DPRK citizen travelling under the passport name of Kim Chol with liquid VX, a banned chemical weapon, at Kuala Lumpur Airport in February 2017.
However, the Indonesian was released on Monday after the Malaysian court dropped the murder charge against her in a surprise move.
Human rights
Regarding a 2018 human rights report issued by the US Department of State, Hằng said the report did not reflect the true situation in Việt Nam.
Though the report acknowledged some of Việt Nam's human right's achievements, it still contained some statements based on inaccurate information, she said.
The fundamental rights of freedom of Vietnamese citizens were stipulated in the country's Constitution and law in accordance with international treaties on human rights which Việt Nam was a member of, and those rights were respected and ensured, Hằng said.
Việt Nam's efforts and significant achievements in the field had been internationally recognised and highly appreciated, she added.
Regarding economy and society, the annual average per capita GDP continued to increase in 2018. The rate of poor households fell to 5.35 per cent, down 1.35 per cent compared to 2017. Meanwhile, 87.7 per cent of people benefited from health insurance, up 2.31 per cent against 2017.
During the ongoing 2018-19 academic year, the country had more than 23.5 million students, up over one million against the previous school year. Nearly 70 per cent of the population also had access to the internet.
The Universal Periodic Review working group of the UN Human Rights Council adopted a report on the third review of Việt Nam on January 25, 2019.
Gaining trust from the international community, Việt Nam would host the UN Day of Vesak in May 2019.
Việt Nam was willing to discuss with the US issues of mutual concern in the spirit of frankness, openness, and mutual respect, contributing to increasing mutual understanding and promoting the bilateral comprehensive partnership, the spokesperson said.
Concerning recent developments on Thị Tứ Island in the Trường Sa (Spratly) Archipelago, Hằng said Việt Nam had sufficient legal grounds and historical evidence to prove its sovereignty over the Trường Sa and Hoàng Sa (Paracel) archipelagos.
While seeking peaceful solutions for disputes in the East Sea on the basis of international law and to facilitate negotiations on a Code of Conduct in the East Sea (COC), related parties should obey the Declaration on the Conduct of Parties in the East Sea (DOC), exercising self-restraint and avoiding behaviour that could complicate and escalate disputes, she said.
Parties involved should also be responsible and make practical and positive contributions to peace and stability in the region, Hằng added. — VNS