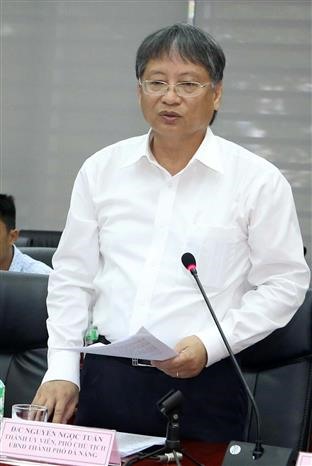 Former deputy chairman of central Đà Nẵng City People's Committee Nguyễn Ngọc Tuấn. — VNA/VNS Photo
Viet Nam News
ĐÀ NẴNG — The Ministry of Public Security has initiated legal proceedings against former deputy chairman of central Đà Nẵng City People's Committee Nguyễn Ngọc Tuấn for alleged violations on land management.
He was placed under house arrest.
On Monday morning, representatives from the Ministry of Public Security and the Supreme People's Procuracy conducted a search of Tuấn's house in Hoàng Kế Viêm Street, Sơn Trà District to collect evidence for the investigation.
Tuấn, 61, was born in central Quảng Nam Province's Điện Ngọc Commune.
He was assigned to be head of Đà Nẵng Urban Planning Institute and deputy director and director of the city's Department of Construction before becoming deputy chairman of the city's People's Committee.
As deputy chairman of the city's People's Committee, Tuấn was in charge of management of land and construction works.
He retired on December 19, 2018.
The charge against Tuấn came as police have expanded the probe to clarify the responsibilities of people concerned in the case related to Phan Văn Anh Vũ, alias Vũ Nhôm. In January, Vũ was sentenced to 15 years in jail for violations in the purchase and sale of public-owned houses and land in Đà Nẵng.
Last April, the investigation police agency launched a criminal investigation against and put into temporary detention Trần Văn Minh, 63, chairman of the city's People's Committee from 2006 to 2011, over the charges of "violating regulations on state asset management and use, causing losses and wastefulness" under Article 219 and "violating State regulations on land management" under Article 229 of the 2015 Penal Code.
Văn Hữu Chiến, 64, chairman of the city's People's Committee from 2011 to 2014, was given the same charges. — VNS