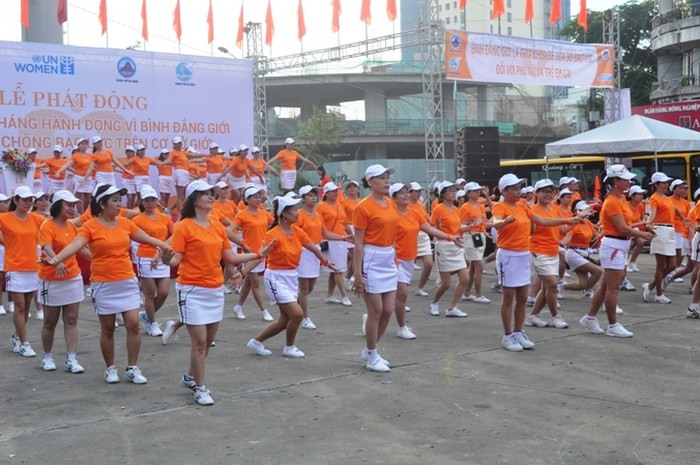 Women perform to call for gender equality and no violence against women and girls in the central city of Đà Nẵng. — Photo Courtesy of the UN Women
Viet Nam News
HÀ NỘI — Experts exchanged expertise on initiatives to prevent sexual violence between Việt Nam and the UK during a conference held on Monday in Hà Nội.
The conference was held by the Vietnam Department of Peacekeeping Operations (VDPO) under the Ministry of Defence and the UK's Defence Attache Office in Hà Nội.
Speaking at the opening ceremony, colonel Nguyễn Như Cảnh, deputy director of the VDPO, said the conference had practical meaning in the context of the two countries' bilateral defence and peacekeeping cooperation.
The exchange aimed at equipping knowledge for the Việt Nam peacekeeping team on sexual violence prevention – an important mechanism in United Nations (UN) peacekeeping activities.
It will also support the training of the VDPO lecturers to be capable of organising the training themselves on the issue. Training activities will cover theoretical knowledge and basic understanding of sexual violence prevention, issues related to women, peace and security, skills and experience for setting up plans and organising training sessions on related topics, including discussions and group practice.
The exchange includes improved knowledge and understanding of the basic principles of the International Humanitarian Law, especially regarding the prevention of sexual violence and gender-based violence for civilians, and spreading ways to prevent stigma and discrimination against victims of violence and ways to help victims reintegrate with the community.
It also targets to improve awareness on the responsibility of each member towards women and children during their peacekeeping duties.
David Houghton, the UK's Defence Attache to Việt Nam, said that the information being shared during the exchange was urgent for the countries participating in UN peacekeeping missions.
Houghton hoped that the Vietnamese forces would apply the experience effectively during their work. — VNS