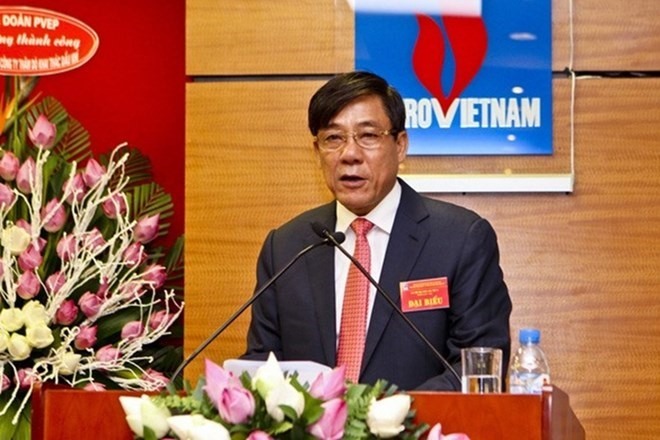 HÀ NỘI — Three senior executives of the State-owned PetroVietnam Exploration Production Corporation (PVEP) are to be prosecuted on the charge of abusing their authority to misappropriate assets.
The Supreme People's Procuracy announced on Thursday it had finished compiling the indictment for the case dealing with officials from the exploration and production member of State oil and gas group PetroVietnam (PVN).
The Hà Nội People's Procuracy was assigned with prosecuting and conducting the first trial against the three defendants: Đỗ Văn Khạnh, born in 1961, former director-general of PVEP; Nguyễn Tuấn Hùng, born 1971, former head of PVEP's finance committee; and Vũ Thị Ngọc Lan, born in 1973, PVEP's former deputy director-general whose primary duties involved finance, accounting and audits.
According to the indictment, from 2009 to 2014, in compliance with a directive issued by PVN "encouraging" its member companies to use financial services of the private bank OceanBank, PVEP deposited its money in both term and call deposits at the bank's Thăng Long branch office in Hà Nội.
Khạnh assigned Lan with approving the submissions from the finance committee and signed documents on the extension of deposit contracts, which were submitted by Hùng, at OceanBank.
Under the direction of OceanBank's former chairman Hà Văn Thắm, 46, the bank ran an illegal scheme to mobilise more deposits by paying extra interest not stated in contracts to all depositing customers. Thắm instructed Nguyễn Thị Minh Phương, OceanBank's former deputy director-general, to ask Nguyễn Trà My, former deputy head of OceanBank Thăng Long and other staff to pay some VNĐ51.8 billion (US$2.2 million) to Hùng.
PVEP was one of the many depositing partners of OceanBank under the illicit scheme. OceanBank's Thắm was last year handed a life sentence for deliberately acting against State's economic regulations, causing irrecoverable losses to the bank to the tune of $440 million.
Former financial chief Hùng maintained that he only received VNĐ39.2 billion, but the procuracy said it had sufficient evidence to conclude otherwise that Hùng would face criminal liability for the entire amount of money.
He said he had given some of the ill-gotten money to many other people but the investigative agencies could not secure enough evidence to confirm his claims, so they created a separate case to investigate.
Khạnh faced criminal liability for receiving VNĐ4 billion from Hùng, while Lan received VNĐ200 million from Phương.
The Supreme People's Procuracy noted that during the investigation, Hùng was not fully earnest in his confessions while the other two defendants, Khạnh and Lan, were "positively co-operative" with the authorities and returned the misappropriated money of their own volition.
Nguyễn Thị Minh Phương and Nguyễn Trà My were already indicted in the first phase of the trial looking into the deliberate defiance of State's economic regulations at OceanBank; therefore, they will not be put to trial in this case. — VNS