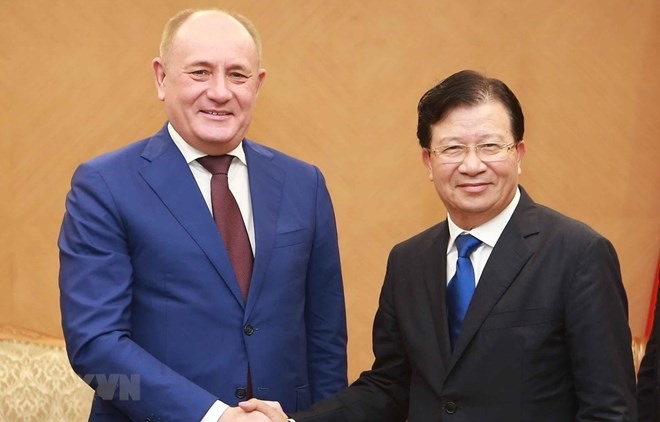 HÀ NỘI – Deputy Prime Minister Trịnh Đình Dũng has called on Russian gas group Gazprom to continue its close co-ordination with Vietnamese ministries, agencies and partners in scientific and technological applications and administrative reforms in order to reduce costs and improve investment efficiency.
While hosting a reception in Hà Nội on Thursday for Vitaly Markelov, deputy chairman of the Gazprom Management Committee, Dũng hailed the group's investment projects in Việt Nam.
He highlighted the fruitful development of the traditional relations, friendship and strategic partnership between Việt Nam and Russia in all fields, particularly in economy, trade and investment.
Việt Nam and Russia had maintained the operation of their inter-governmental committee for co-operation in economy-trade and science-technology with a deputy prime minister as the head of each sub-committee and meetings held annually, he said.
Russia now ranked 23rd among foreign investors in Việt Nam, with 116 projects mainly focused on oil and gas, industry, manufacturing, mining, transport and telecommunications, Dũng said, noting that Việt Nam was also running 22 projects in Russia with total investment of nearly US$3 billion.
For his part, Markelov stressed that co-operation projects in Việt Nam had significantly contributed to Gazprom's development.
Gazprom was working with the Vietnam Oil and Gas Group (PetroVietnam) and other Vietnamese partners to implement oil and gas projects, he said, adding that the Russian group wanted to carry out new investment projects in Việt Nam in oil and gas exploration, exploitation, transportation, processing and marketing.
Having applauded Gazprom's investment expansion plans, Dũng asked the Ministry of Industry and Trade and PetroVietnam to closely co-ordinate with Gazprom and create good conditions for its projects in Việt Nam. – VNS