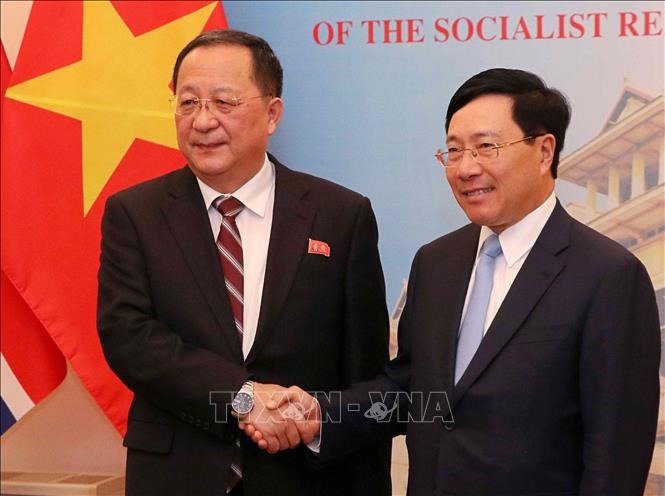 Vietnamese Foreign Minister Phạm Bình Minh (right) and his DPRK counterpart at a meeting in Hà Nội last year. — VNA/VNS Photo
Viet Nam News
HÀ NỘI — Vietnamese Deputy Prime Minister and Foreign Minister Phạm Bình Minh will visit the Democratic People's Republic of Korea at the invitation of DPRK Foreign Minister Ri Yong Ho from February 12 to 14.
The visit comes ahead of the summit between US President Donald Trump and DPRK leader Kim Jong Un planned to take place in Hà Nội on February 27 and 28, a spokeswoman from the Vietnamese Foreign Ministry said in a statement posted on Twitter on Monday.
Last week Trump announced he would hold his second meeting with Kim in the Vietnamese capital.
In reply to a question for Việt Nam's comment on Trump's remarks in his latest State of the Union address on the upcoming summit, Foreign Ministry Spokesperson Lê Thị Thu Hằng said Việt Nam welcomed the second US-DPRK summit and strongly supported dialogue to maintain peace, security and stability on the Korean Peninsula.
Việt Nam stood ready to actively contribute to and co-operate with both sides to ensure the success of the second US-DPRK summit, helping to achieve the above-mentioned goal, the official said. — VNS