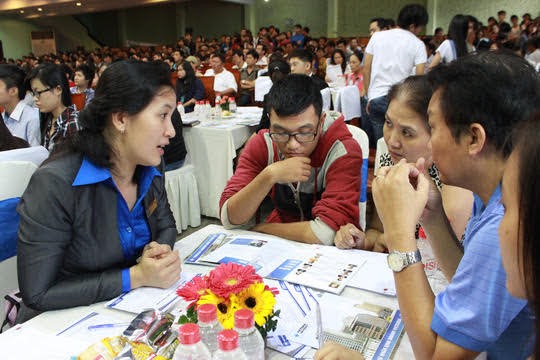 Viet Nam News
HCM CITY — Many universities plan to offer new courses to attract more students and meet the market demand for human resources.
Người Lao Động (Labourer) newspapers reported that this year the HCM City University of Food Industry plans to offer courses in fisheries science, tourism and international business.
Each is expected to admit 70 students.
Phạm Thái Sơn, director of the university's admission centre, said demand for human resources in the three fields is large.
The number of students in area would be determined based on market requirements, he added.
Creative innovation and entrepreneurship training are two new features in the university's general programme this year.
Nha Trang University plans to start four new courses in law, mechanical engineering, fisheries science, and hotel administration.
Dr Tô Văn Phương of the university's training department said the new traininig areas would meet the demand for human resources in the central and Central Highlands regions.
Fisheries science, a new area yet to be offered elsewhere, focuses on important areas like economics, biology and fisheries management, in which coastal provinces need to further develop, he said.
Tourism is also a promising field since the region which is home to tourism destinations including Phú Yên, Bình Định, Đà Lạt, and the Central Highlands provinces, needs 4,000 hotel management personnel every year.
But not many universities are capable of launching this course, he added.
The HCM City University of Technology and Education has announced four new courses: robotics and artificial intelligence, management of construction and technical infrastructure, international business, and textile materials.
The robotics and artificial intelligence course will only admit students with 24 points or more in the National High School Exam's groups A and A1. Students from schools for the gifted will get priority.
The course will be free and in English with international lecturers also in the mix.
Prof Dr Đỗ Văn Dũng, principal of the HCM City University of Technology and Education, said robotics and artificial intelligence is a cross-disciplinary field involving mechanical, electrical-electronics and information technology.
Since it is a leading field in the fourth industrial revolution, demand for it is very high, he added.
Some universities, such as the HCM City University of Medicine and Pharmacy, require candidates with international English certificates (IELTS score of 6.0 and above or TOEFL iBT score of 60 and above).
The HCM City University of Economics only admits students with an average English point in grade 12 of 8.0 and above. English has become an important admission criterion. — VNS