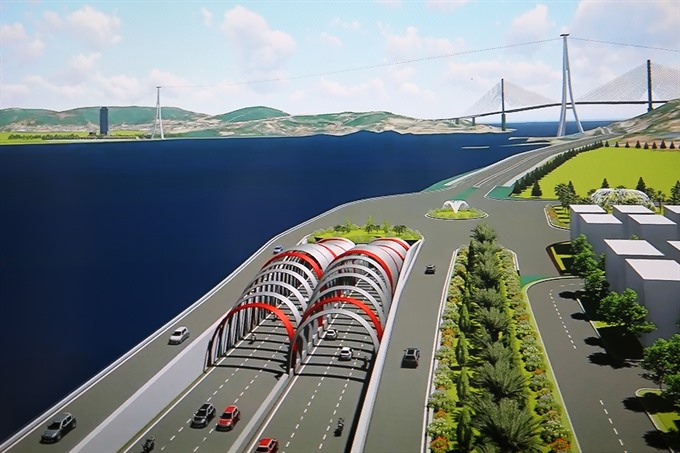 Viet Nam News
QUẢNG NINH — The People's Committee in northern province of Quảng Ninh wants to build an undersea tunnel at Cửa Lục Bay.
They have submitted a report to Prime Minister Nguyễn Xuân Phúc for approval.
The tunnel will connect the Vườn Đào T-junction of Bãi Cháy Ward and the coastal roads of the Vinhomes urban area at Hạ Long City's Hòn Gai Ward.
It is expected to have six lanes for vehicles and with a maximum speed of 60 kilometres per hour.
It will cost more than VNĐ9.7 trillion (US$417.6 million) to build. The project has a total length of 2,750 metres and can resist level seven earthquakes.
According to Quảng Ninh Province authority, the construction of the tunnel will ease traffic congestion on Bãi Cháy Bridge.



At the moment, the bridge is the only way to connect Hòn Gai and Bãi Cháy as well as linking tourist sites in the west to the administration area in the east of Hạ Long City.



It will also help improve the traffic corridor on Hải Phòng-Hạ Long-Vân Đồn-Móng Cái Expressway and strengthen connectivity with the newly-built Vân Đồn airport.



Nguyễn Đức Long, chairman of Quảng Ninh Province' People's Committee said the investment was necessary to complete the key transport system in the province.
With the rapid increase of traffic on the route, it is expected that Bãi Cháy Bridge would be overloaded by 2025, he said.
Trần Văn Hùng, director of the provincial Planning and Investment Department said the area was often hit by storms each year.
"Whenever there is a storm, relevant forces are forced to suspend traffic on Bãi Cháy Bridge to ensure the safety for road users," Hùng told Tuổi Trẻ (Youth) newspaper.
This affected the lives of local residents, he said meaning the Cửa Lục tunnel project would play an important role in improving traffic connectivity in the region.
According to Vũ Văn Khánh, director of the provincial Transport Department, who is also director of the project's Board of Management, the Cửa Lục tunnel project was included in the province's master plan for transport infrastructure by 2020 and considered a top priority.
Three consultant units have expressed their initiatives on the projects including Nippon Koei of Japan, FECON Joint Stock Company and Transport Engineering Design Inc.
They suggested two methods, tunnel boring machine and immersed tunneling, which are widely selected by many countries for safety and effectiveness reasons.
The project's Board of Management has completed appointing contractor and the consulting agencies have conducted surveys on the effect on nearby communities as well as talking with relevant agencies and organisations.
Once approved, the project will start this year and is scheduled for completion in the next five years. — VNS