Viet Nam News
HÀ NỘI — The demand for Kim Hoàng paintings, a genre of Vietnamese woodcut paintings that originate from Kim Hoàng Village in Hà Nội, has been increasing over the Lunar New Year.
Thanks to efforts of local authorities, artisans and collectors, Kim Hoàng paintings have avoided fading into oblivion and are experiencing a revival.
Kim Hoàng paintings were a common sight at cultural events over the festive period at locations like the Temple of Literature, streets around Hoàn Kiếm Lake and the Old Quarter.
Nguyễn Thị Thu Hòa, director of the Pottery Museum, said this year the demand for Kim Hoàng paintings increased remarkably, especially for paintings featuring pigs, given 2019 is the Year of the Pig.
She said pigs are depicted in various ways and styles in the paintings. In addition, red, the colour thought to bring about luck in the new year, is the theme colour of this painting.
Traditionally, like Đông Hồ and Hàng Trống paintings, Kim Hoàng paintings were used to decorate in the Lunar New Year. Details in these folk paintings like roosters, pigs and daily activities, represent wishes for a year of prosperity and happiness.
To make a painting, craftsmen use the woodblocks to create outlines in the background of red or yellow paper, then paint the details by hand.
"Kim Hoàng painting was at the height of popularity in 18th and 19th century. Kim Hoàng was formed by the two former villages of Kim Bảng and Hoàng Bảng. In the old time, a pair of roosters was one of the most popular image in Kim Hoàng painting at the Lunar New Year. It was believed that having a painting of roosters in the new year would help ward off bad spirits and bring about peace for the family," deputy head of Vân Canh Commune Nguyễn Thế Minh said.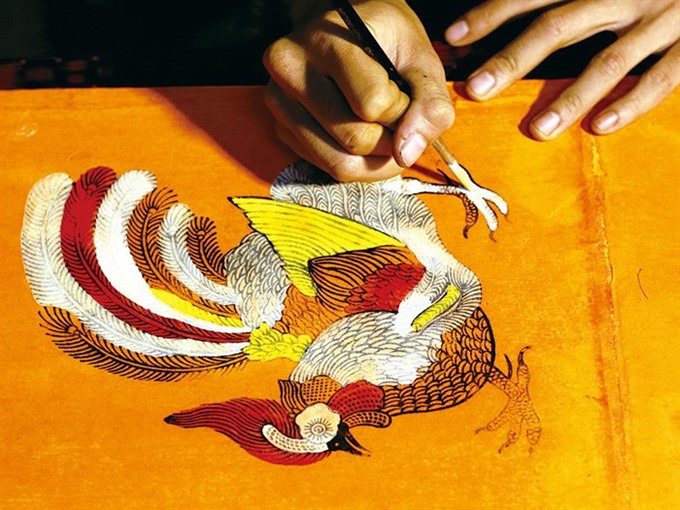 Rooster is a popular animal in Kim Hoàng painting which is believed to bring luck and happiness for families. — Photo anninhthudo.vn
"In the 1940s, Kim Hoàng suffered a serious flood which washed away all the woodblocks and made this traditional painting fall into oblivion," said Minh.
After 80 years, Kim Hoàng painting is on its way to a revival.
Director of Hà Nội Pottery Museum, also a collector of folk paintings, Nguyễn Thị Thu Hòa, felt sorry for the loss of this painting and decided to revive it in 2015.
Hòa went to museums and met with collectors in and outside of Việt Nam to seek the last remaining woodblocks. She then sought help from craftsmen, art researchers and local authorities to revive the genre.
A native of Kim Hoàng Village, Đào Đình Trung volunteered to join the revival project. He was sent to painting school and learned the craft of making Kim Hoàng painting.
Trung said: "When I was small, I often heard the elderly talk about this traditional genre of painting with a great sense of pride and nostalgia. That was when I sensed a feeling of regret for a craft that lost. I wished I could do something to help this make a comeback."
To date, the project has recovered 33 woodblocks and organised several events to engage children and young people to learn about this painting.
For the past three years, the paintings of Kim Hoàng Village have also been sent to local and international exhibition and cultural events and used in different items like calendars and lucky money envelops for Lunar New Year. — VNS