There's no love lost for the manager of Chelsea on Valentine's Day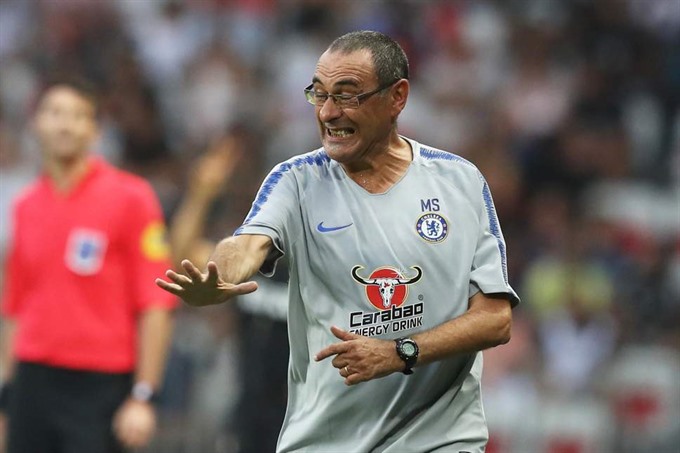 Viet Nam News
Paul Kennedy
I remember the first time I had my heart broken as if it was yesterday. Her name was Anja, she was Dutch.
I was 17 years old and thought I was in love with the woman of my dreams. We had met in Spain during my first 'lad's holiday' and she promised to keep in touch forever.
I tried, she didn't. I was broken-hearted (for about two days) when she told me our week-long relationship was over.
Since then I have only had one true love of my life. Granted, they have let me down on more than one occasion, and I've no doubt will do so again in the future.
But they have never cheated on me and I've remained faithful and always will. My true love is Liverpool Football Club. Their crest remains the greatest bird I've ever loved.
Our relationship has been strained at times but I've never doubted my commitment.
Right about now, Chelsea fans I'm sure have fallen out of love not with their club, but with their manager Maurizio Sarri.
I think what's going on proves for sure that not only are football fans fickle, but Chelsea supporters, in my opinion, are the ficklest of them all.
At the beginning of the season after his appointment, Chelsea were riding on the crest of a wave.
They were unbeaten in their opening 12 Premier League games and it wasn't until the end of November when they lost their first match.
But after Sunday's 6-0 hammering at the hands of Manchester City, chances are Sarri will be given the boot. He may already have been sacked by the time you read this column.
It proves that football is a ruthless sport. It's a business built solely on results, and Chelsea have had a few poor ones of late.
But is that enough to fire the manager?
If you look back through their recent history, it seems Chelsea have made some very strange decisions.
Antonio Conte won two trophies and was replaced with Sarri, who had won nothing.
They signed Alvaro Morata to replace Michy Batshuayi, even though the latter had scored more goals.
Chelsea once signed Romelu Lukaku to replace Didier Drogba, who they had sold, then sent Lukaku out on loan, and replaced him by signing Didier Drogba.
They sold David Luiz to PSG who helped knocked them out of the Champions League, then signed David Luiz back from PSG.
They hired Jose Mourinho as manager, fired him, hired him again, then fired him again.
They bought midfielder Nemanja Matic, sold him, bought him back, then sold him again.
They bought Mohammed Salah and Kevin De Bruyne, didn't think either were good enough for the Premier League so sold them both. The two of them are now among the best players in the Premier League, at different clubs.
Are you seeing a pattern here? It's a pattern that makes about as much sense as a Jackson Pollock painting.
Chelsea and their rich owner Roman Abramovich really don't appear to have the faintest idea what they are doing.
Don't forget Chelsea next week play in the Carabao Cup final, albeit against the team that put six past them last week.
There's a very good chance Sarri won't be leading the team out at Wembley and there'll be a new name for Chelsea fans to love.
In the past 20 years Chelsea have had 15 managers. Granted Ray Wilkins and Steve Holland were only caretakers but even so, that's a ridiculous amount.
It's one manager every 16 months.
In Jurgen Klopp's first season as Liverpool boss, they finished 8th. In Alex Ferguson's first year as Manchester United manager, they finished 11th, the same position they reached in his second season.
Can you imagine if Abramovich had been in charge of United in 1989?
"Sorry Alex, you're fired. I'm bringing back Ron Atkinson."
Today, February 14th is regarded as the day of love.
But for a loving relationship to work, it takes time, effort and commitment. Three things the owner of Chelsea clearly doesn't have. — VNS