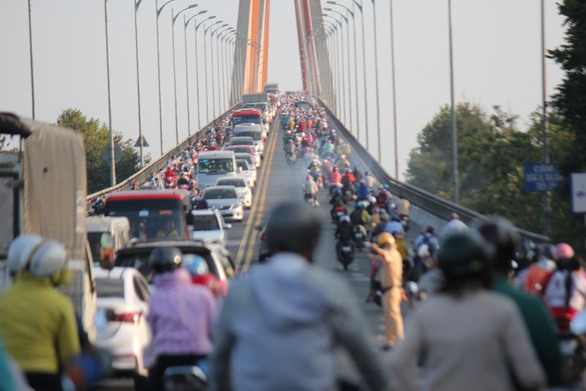 An influx of people returning from the Cửu Long (Mekong) Delta to HCM City after a long Tết (Lunar New Year) holiday has been causing severe congestion on highways for the past two days. — Photo tuoitre.vn
Viet Nam News
HCM CITY — With people returning to HCM City from the Cửu Long (Mekong) Delta after Tết (Lunar New Year), highways have been severely congested in the past two days.
Most offices reopen on Monday (February 11), and workers are flocking back, causing traffic jams on National Highway 1A and Highways 60 and 50.
National highways section in Tiền Giang Province has experienced relentless congestion since Friday, with traffic mostly crawling on National Highway 60 from Bến Tre Province.
National Highway 1A sections in Vĩnh Long Province have been similarly congested since early Saturday morning.
Traffic through the Rạch Miễu Bridge has been stop-go since Saturday though the toll booth at the bridge has shut down many times to ease things.
The narrowness of the bridge means traffic is backing up for five kilometres up to Ba Lai Bridge.
The provinces have assigned officers to regulate traffic on highways and bridges.
Many travellers are resting and taking photos on the Cần Thơ and Mỹ Thuận bridges, exacerbating the traffic chaos.
Tens of thousands of vehicles from the delta will continue travel to HCM City in the next few days and more traffic jams are expected at many intersections and sections of National Highways 1A and No 50, the HCM City-Trung Lương Expressway, the Rạch Miễu and Mỹ Thuận bridges, and many other small bridges. — VNS