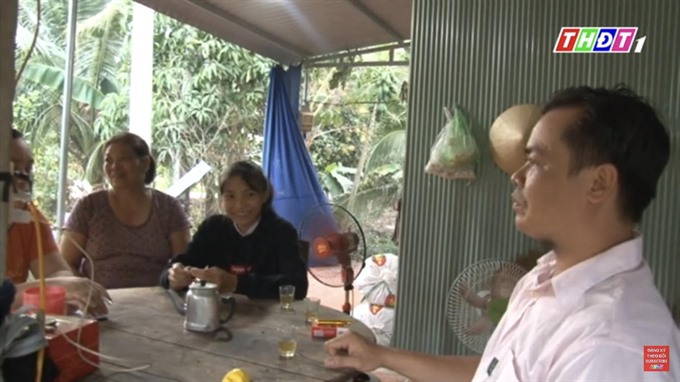 Hương Thương (middle), who found a handbag containing four taels of gold, cash and mobile phone, returned the bag to the police.— Photo thdt.vn
Viet Nam News
ĐỒNG THÁP — A secondary school student who found a handbag containing VNĐ8 million (US$344) in cash turned it over to her school administrator on Tuesday, police in Mekong Đồng Tháp Province said.
Lê Bảo Ngọc found the handbag containing identification papers and cash.
"I think the owner was in difficulty because he or she needed the cash to do something important," Ngọc told the news website VnExpress.net. As of late Wednesday afternoon, the owner had not been found.
In a similar case, on Sunday, Hồ Lý Hương Thương, a high school student, found a handbag containing four taels of gold, cash and a mobile phone and turned it over to the police, who have yet to locate the owner.
Last year, Thương found a wallet with more than VNĐ2 million (US$86) and returned it to the owner.
"It's normal to return the property to the owner," Thương told VnExpress.net.
Earlier this month, two students from Giồng Giăng Primary School in Đồng Tháp found a cloth bag containing four taels of gold, one necklace, two bracelets and several 24K gold rings.
They returned the bag to the police who found the owner of the bag after an investigation.
The administrator of the Giồng Giăng primary school awarded certificates of merit to the two students. — VNS