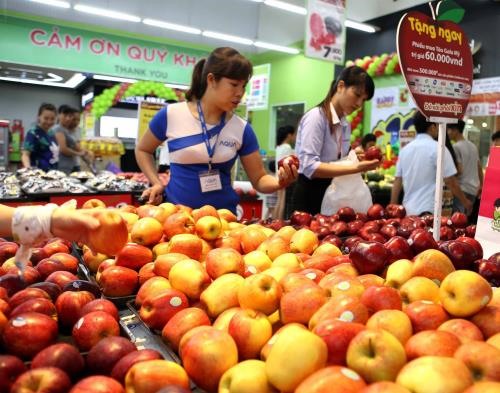 Purchasing power over the Tết (Lunar New Year) holiday increased by 10-12 per cent from last year. — VNA/VNS Photo Vũ Sinh
Viet Nam News
HÀ NỘI — Purchasing power during the Tết (Lunar New Year) holiday increased by 10-12 per cent from last year and 15-20 per cent in comparison with previous months, according to the Ministry of Industry and Trade (MoIT).
The ministry said one of the essential goods served for the holiday was rice. Supplies were abundant and people were keen on buying high-quality products such as Séng Cù, Tám thơm, Nàng thơm chợ Đào and Bắc Hương.
It was estimated rice reserves increased by 15 per cent from the same period last year, and prices stood at VNĐ1,000-2,000 per kilogram higher than previous months.
To stabilise rice prices, localities such as Cao Bằng, Sóc Trăng and Đồng Nai listed the item in their price stabilisation programme with lower prices of 5 to 10 per cent against market rates.
In addition, supplies were topped up from the winter-spring crop in the southern region.
Pigging down
Prices of pork surged before the holiday due to increasing consumption demand and higher breeding costs.
The MoIT said pork supplies this year were higher than in previous years.
Pork prices in the north were lower than those in central and southern regions.
Beef and chicken prices increased at the end of January, but only a small percentage as supermarkets participated in the price stabilisation programme.
Vegetable prices were stable in the holiday thanks to abundant supply, and the price of some fruit fell 5-8 per cent from the same period last year.
The ministry said the Việt Nam Directorate of Market Surveillance conducted five inspections before the holiday to prevent smuggling, trade fraud and counterfeit goods to ensure food safety in key localities. — VNS