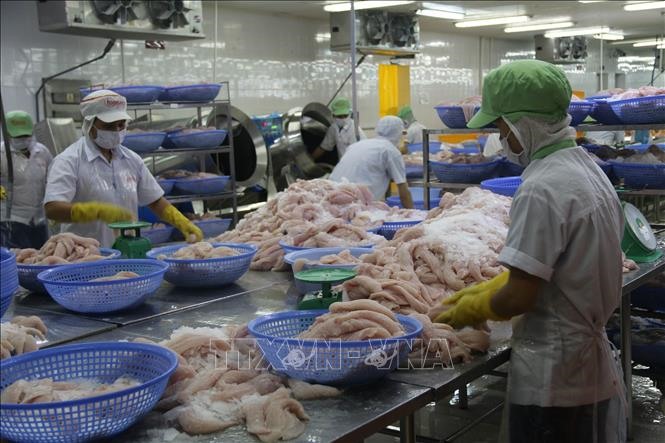 Viet Nam News
HCM CITY — For the shark catfish industry in the Mekong Delta region to develop sustainably, authorities need to regulate output and quality and the use of chemicals more stringently and prevent unauthorised farming, Lê Hoàng Vũ, head of Đồng Tháp Province's Sub-department of Fisheries, has said.
The province would push for more co-operation between brood stock producers, fish farmers and processing firms, he said.
This year it plans to increase the area of fish farms by 150 ha to 2,600ha and output by 60,000 tonnes.
Trần Phùng Hoàng Tuấn, his An Giang Province counterpart, said his province is helping farmers through a three-tier project to produce high quality brood stock to supply farms in the delta, fully meeting demand by 2025.
The first tier involves research institutes and universities researching into techniques in selecting high quality fish breeders, the second involves brood stock producing centres and nurseries and the third, establishments that raise the fish until they reach the fingerling stage.
They produced nearly 1 billion shark catfish fry in 2017 –18, meeting around 30 per cent of the farmers' demand in the province, Vũ told Tuổi Trẻ (Youth) newspaper.
But many farmers are struggling to follow the instructions due to their unfamiliarity, he added.
Other provinces in the region too are planning to monitor shark catfish farming more closely, especially at the breeding and farming processes to ensure quality for exports.
According to Nguyễn Văn Khánh and Cao Lương Tri, two shark catfish farmers in the delta, the price of the fish has been extremely profitable for farmers at around VNĐ29,500 per kilogramme, sometimes even rising to a record VNĐ35,000. This has made farmers happy since in the last few years prices have been volatile, they said.
But Tri also said that as a result people could switch to farming shark catfish en masse, resulting in a shortage of quality fish breeds, which could affect the market.
Võ Hùng Dũng, deputy chairman of the Việt Nam Shark Catfish Association, said the fish output last year was 1.4 million tonnes, up 20 per cent from 2017. Exports were worth a record US$2.2 billion, 26.4 per cent higher than in 2017, he said.
The industry targets exports of around $2.4 billion this year. — VNS