Buddha statues inside the pagoda. — VNS Photo Trần Mai Hưởng
Viet Nam News
HÀ NỘI — Prime Minister Nguyễn Xuân Phúc visited Tam Chúc Buddhism Culture Centre on Tuesday in Kim Bảng District, Hà Nam Province, which will host Vesak celebrations between May 12 and 14.
Vesak, which stems from the Pali word Vesākha, and in Sanskrit Vaiśākha, celebrates the birth, enlightenment, and death of Gautama Buddha in the Theravada or southern tradition.
The 16th United Day of Vesak celebrations and international Buddhist conference will receive over 10,000 people including Buddhist leaders, scholars and Buddhists from about 100 countries and territories from across the world as well as 10,000 Buddhist followers and Vietnamese people.
PM Phúc asked local authorities and investors at the site to ensure the construction of the whole complex is ready well head of the time.
He stressed that though Việt Nam had hosted the event successfully in 2008 and 2014, the organisers still needed to focus on the task ahead.
Even though the site is still under construction, it has received thousands of visitors since the Lunar New Year holiday.
The site sits on the foundations of an ancient Tam Chúc Pagoda dating back to the Đinh Dynasty over 1,000 years ago. The new pagoda has been built using giant blocks from Kim Lan ceramic village in Hà Nội. As many as 12,000 murals depicting legends of Buddha craved into volcano rock by Indonesian artisans will decorate the area.
A garden of 1,000 stone pillars, each 12m high and 200 tonnes in weight, carved with Buddhist teachings, will also be installed at the site. — VNS
The pagoda overlooks an immense landscape of lakes and mountains. — VNS Photo Trần Mai Hưởng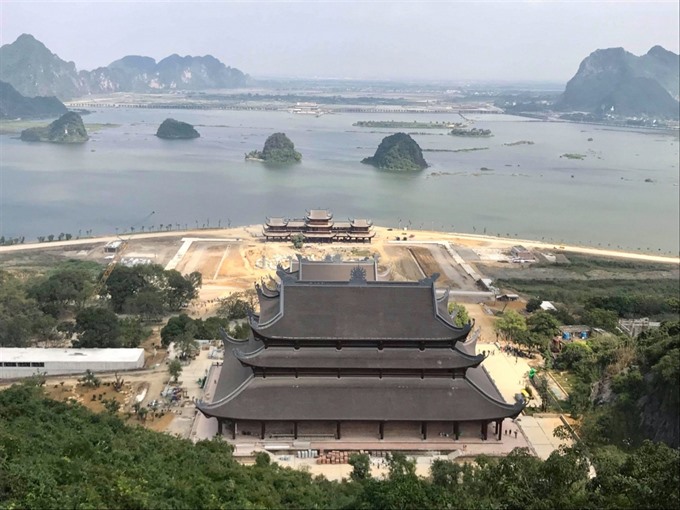 An aerial view of Tam Chúc Pagoda in Hà Nam Province, which will host the United Day of Vesak between May 12 and 14. — Photo vietnambiz.vn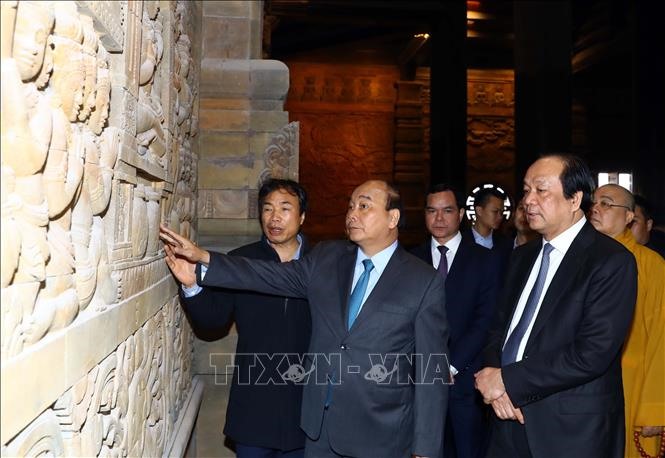 PM Nguyễn Xuân Phúc (second from left) visits Tam Chúc Pagoda to check on preparations for Vesak on Tuesday. — VNA/VNS Photo Thống Nhất