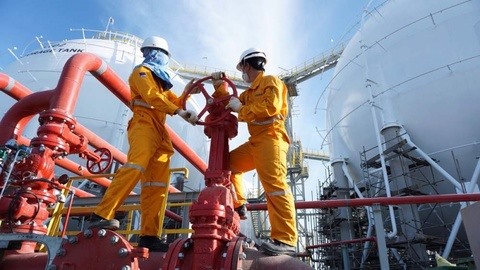 Viet Nam News
HÀ NỘI — Vietnamese shares extended their growth for a third straight day as focus switched to the petroleum sector following sharp increases in oil prices.
The benchmark VN Index on the Hồ Chí Minh Stock Exchange added 0.82 per cent to close at 945.25 points, extending a three-day rally of 4.02 per cent since returning from Tết (Lunar New Year).
More than 215.2 million shares were traded on the southern bourse, worth nearly VNĐ5 trillion (US$214.2 million).
Wednesday trading figures were up 14.2 per cent in volume and 19 per cent in value compared to the previous session.
Petroleum stocks took over from banks and consumer staple firms to lead the market on Wednesday after oil prices surged during the day.
Brent crude gained 1.4 per cent and US crude West Texas Intermediate (WTI) was up 1 per cent to trade at $63.28 and $53.64 a barrel.
Crude prices have increased by nearly 3 per cent in the last two days after the Organisation of Petroleum Exporting Countries (OPEC) announced a sharp production cut for January and US sanctions hit Venezuela – another big oil producer.
Among local petroleum stocks, PetroVietnam Gas (GAS) rose 2.2 per cent and PetroVietnam Drilling and Well Services (PVD) jumped 4.6 per cent.
Following the petroleum sector were consumer staples led by Masan (MSN), HAGL Agrico (HNG), brewer Habeco (BHN) and dairy producer Vinamilk (VNM).
According to the Ministry of Industry and Trade, purchasing power during Tết was up 10-12 per cent on-year and 15-20 per cent from previous months, boosting expectations for consumer staple firms to record good earnings for the first quarter of the year.
According to Thành Công Securities Co (TCSC), the third-straight-day rally with improved liquidity showed the market was showing positive signs and buyers were overpowering sellers, supporting the market's short-term uptrend.
"However, the benchmark VN Index has gained at slower pace in the last three days as it is approaching the resistance of 950-960 points, proving selling pressure will increase in the next two trading days of the week," TCSC said in its daily report.
"Buying will become quite risky in the next few sessions" and investors may "stand aside and wait for a market correction to continue buying stocks," the company added.
Given these factors, the stock market was forecast to struggle in the 940-950 point range for the next two days and fluctuations will occur more often, according to Sài Gòn-Hà Nội Securities.
On the Hà Nội Stock Exchange, the HNX Index edged up 0.42 per cent to close at 106.49 points with nearly 31 million shares traded worth VNĐ405.7 billion.
The northern market index has rallied 4.08 per cent since the end of last year. — VNS