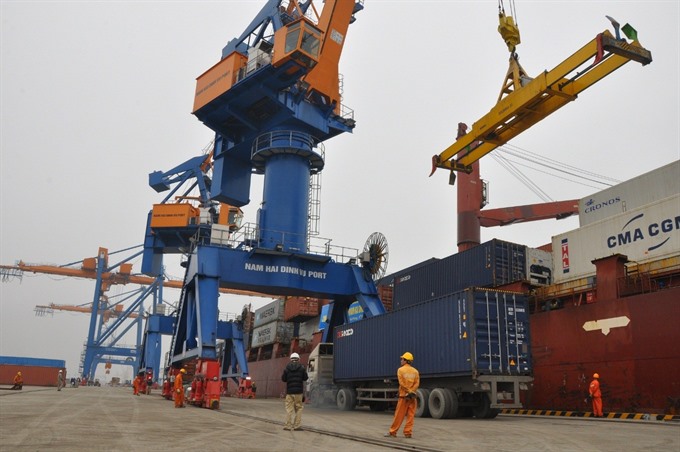 The Nam Hải-Đình Vũ Port in Đình Vũ-Cát Hải Economic Zone. — Photo namhaiport.com.vn
Viet Nam News
HẢI PHÒNG — Five or six more industrial parks were expected to be built in the northern port city of Hải Phòng, according to head of the municipal Economic Zone Authority (HEZA) Phạm Văn Mợi.
Investors have kept an eye on the construction of the Vinh Quang Industrial Park in Tiên Lãng District and the DEEP C4 Industrial Zone in Đình Vũ-Cát Hải Economic Zone thanks to favourable transport infrastructure.
DEEP C4 is located next to to Lạch Huyện Deep Sea Port which is able to receive ships with a capacity of up to 8,000 TEU.
Mợi said the city's 13 industrial parks, including the nine in Đình Vũ-Cát Hải Economic Zone, have attracted 449 domestic and foreign projects so far. Nearly US$13.6 billion had been poured into 311 foreign-invested projects, and more than VNĐ136.3 trillion ($5.9 billion) was secured in 138 domestically-invested projects.
In 2018 alone, local industrial parks had 65 new projects with total registered capital of $520.2 million, and 38 projects adjusted their investment capital with a combined additional sum of $1.76 billion. Foreign investment tripled the amount recorded in 2017 to reach $2.28 billion.
Domestic investors landed VNĐ42.7 trillion in investment throughout the year.
Good transport infrastructure alongside improvements to administrative procedures and land clearance have made the city more attractive to investors, he said.
HEZA will continue working to remove bottlenecks for investors, as well as shorten the time needed for granting investment licences to between two to seven days. — VNS