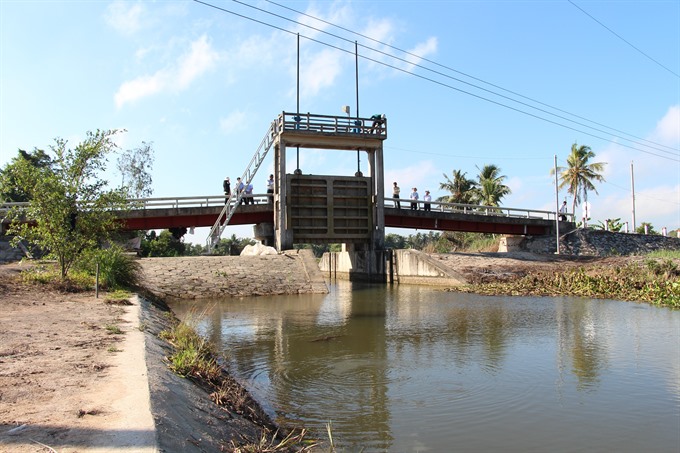 Hậu Giang Province will spend tens of billions of đồng on upgrading irrigation systems. — VNA/VNS Photo Hồng Thái
Viet Nam News
MEKONG DELTA — The Cửu Long (Mekong) Delta province of Hậu Giang will invest VNĐ67.5 billion (US$2.91 million) in upgrading irrigation systems to prevent saline intrusion during the ongoing dry season.
It will upgrade, maintain and repair 120 dams and sluices and dredge 70 canals in areas affected by drought and saltwater.
Another delta province, Tiền Giang, will spend VNĐ46.4 billion ($1.99 million) on upgrading its irrigation systems.
This will serve to prevent and mitigate the effects of natural disasters and climate change on more than 26,000ha of rice paddies during the 2018-19 winter-spring crop, and nearly 5,000ha of vegetable and fruit farms.
According to the province's Irrigation Division, around 14,000ha of farmlands need to be irrigated in the dry season.
The province plans to install 600 dams to prevent saltwater intrusion and store freshwater to ensure farmlands get enough water for irrigation.
Ninety six canals with a total length of 134.5km have been dredged recently.
Local authorities are keeping local people informed about the drought and saltwater intrusion situation.
Besides, they are seeking to raise awareness of the need to protect water sources, use water resources more efficiently and not throw waste and discharge wastewater into water bodies. — VNS