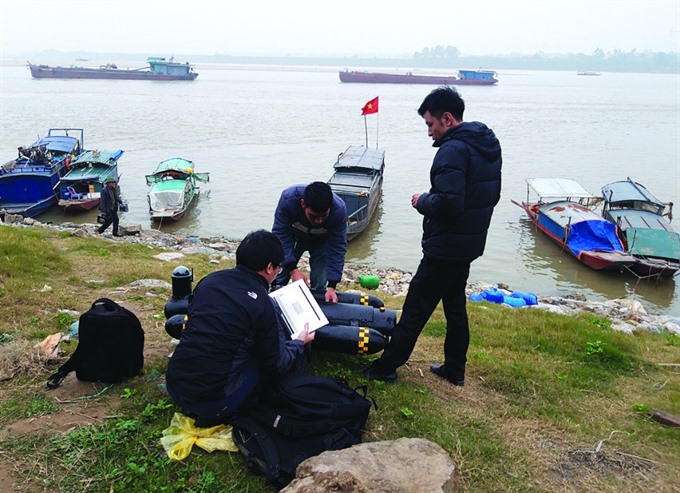 Researchers from the Việt Nam Institute of Geodesy and Cartography prepare to test their seafloor mapping vehicle by the Hồng (Red) River. The unmanned surface vehicles, developed in Việt Nam, can gather data from areas of the ocean floor and river beds inaccessible to humans. — Photo baotainguyenmoitruong.vn
Viet Nam News
HÀ NỘI — A group of Vietnamese researchers has created an unmanned vehicle that can be used to create maps of the ocean floor and collect environmental data.
The 60kg vehicle has a composite shell and can collect data from 1-1,000 metres below the surface. It sends data to an analysis centre via radio signal and the General Packet Radio Service (GPRS).
Equipped with data recording software, a camera, a satellite locator, an antenna and an echo sounding device, the vehicle runs on two batteries and can operate for eight to 10 hours straight.
It performed well when tested in fast-flowing areas of the Lô and Đà rivers and near the island district of Vân Đồn in the coastal province of Quảng Ninh, Tài nguyên Môi trường(Natural Resources) online newspaper reported.
The vehicle was created by researchers from the Việt Nam Institute of Geodesy and Cartography under the Ministry of Natural Resources and Environment (MONRE) as a result of a project that is running from January 2018 to June 2020.
It operates with two systems that have never been successfully assembled in Việt Nam before, according to Lưu Hải Âu, director of the institute's Centre for Informatics and Geodesy.
They include a satellite positioning system running with virtual reference station (VRS) technology attached to an unmanned aerial vehicle and a software system that integrates echo sounding devices via an internal measurement unit, he said.
"The theories of operation of these two systems were thoroughly studied by MONRE and were proven effective after being put into production," Âu said.
"Mapping the topography of the ocean floor and river beds with echo sounding devices attached to unmanned surface vehicles is new to Việt Nam, though the technique is practised worldwide," he said.
The unmanned surface vehicle would help create large-scale topographic maps of areas with dangerous terrain inaccessible to humans and those that are polluted, he said.
"It can also gather water pollution data and help to detect factories that release untreated waste into the environment," said Âu. — VNS