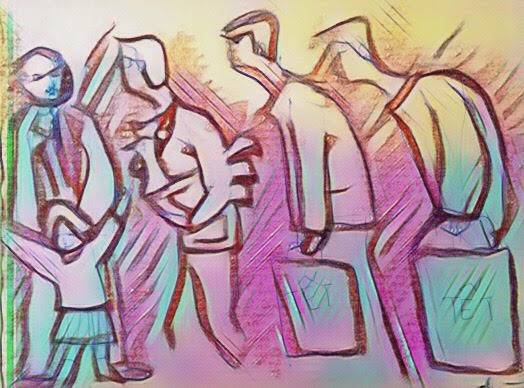 Viet Nam News
By Thu Trang
Every year when Tết, or the Lunar New Year festival, begins I fondly remember my childhood.
As an excited youngster, I couldn't wait to receive my lucky money. It may have not been much, but when that red envelope arrived I knew I was in for good luck, good health, good results in school and all in all, a delightful year ahead of me.
But where does the idea come from? Its origins are not known exactly.
Legend says, once upon a time evil spirits lived in trees desperate to cause distress to the children on earth.
And when the Gods left heaven on New Year's Eve to accept new tasks assigned by the Jade Emperor, this was an opportunity for the evil spirits to escape and rub the heads of the children making them ill.
To combat this, several Gods would disguise themselves as coins and sit next to babies under a piece of red cloth. As the evil spirits approached the Gods would scare them away by becoming bright coins keeping the children safe from evil.
As time goes by, giving lucky money became one of the most popular Tết customs, and a symbol of good health, success, and happiness.
However, as society is more modern, living standards improve and people's awareness changes, the custom of giving lucky money gradually lost its initial meaning.
Some children began to desire a large amount of money and compare which adult gave them the most.
Vũ Thị Thu Hà, a bank employee in Hà Nội, said she always came back to her hometown in Hà Nam during the Lunar New Year.
Following the customs, she gives some lucky money to children and the elders with hope of good fortune in the upcoming year.
"However, some children open the red envelope immediately, and ask me why I give them so little money," said Hà.
Others even tell Hà they had received a lot of money from other adults, embarrassing her.
And it's not the only problem.
Several adults believe that giving lucky money is a good occasion to show their faith to their leaders and employers, and even hope it will help them curry favour in the workplace.
Nguyễn Thanh Lan (not her real name), an office worker in Hà Nội, said she and her colleagues consider giving a great amount of money to their employers' children in the hope of preferential treatment in the future.
"It's a chance for us to express our gratitude to the leaders so they would create good conditions for us to work during the year," said Lan.
Lan and other workers of the company also believe if they give a lot of lucky money, or some gifts to the children during the first days of the Lunar New Year, the leaders will treat them better and even turn a blind eye to mistakes.
"The ones who are temporary workers in my company always try to give special gifts to the employers' children with hope that they will have a chance to become permanent workers of the company this year," she said.
So traditions which once had a sincere meaning are gradually being lost.
Phạm Huy Hùng, a traditional culture researcher and a lecturer of the Việt Nam University of Fine Art, said lucky money was a spiritual gift.
"The lucky money's value was not how big the amount is, its value was inserted in wishes from the givers to the receivers," he said.
To keep the traditional custom's meaning, Hùng believes that it should begin from education.
"Adults should teach their children to respect and say thank you to the ones giving them lucky money," he said.
The children should understand that each red envelops is the best wish for them in the new year, and the luck does not depend on how much is inside it.
"Do it right and every child will welcome the new year and the lucky money in a spontaneous way, enjoy the holiday and eagerly wait for the next year," said Hùng.
If the custom of giving lucky money loses its initial meaning, it can add pressure for both givers and receivers. It even is a race, in which givers are trying to present as much as possible, and receivers worry how to repay properly.
When we put a little money into a red envelope, we recommend wishes for the ones we will give it to.
Thus we should make the lucky money happiness for children, for the elderly and also for all receivers.
The monetary value is, and always should be irrelevant. It is simply the thought that counts.
Giving lucky money should never mean piling pressure on others. If that's how people think, then maybe their luck will one day, run out.
It's sure that with the striking envelope, luck will come to all of us. And giving lucky money will remain a fine traditional custom forever. — VNS