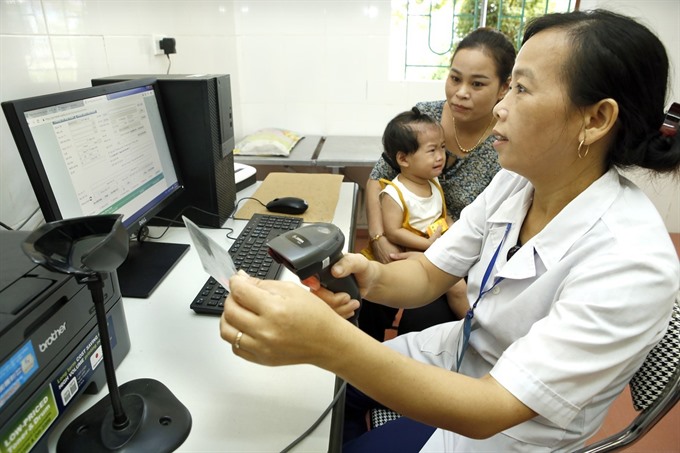 Viet Nam News
HCM CITY — Lê Hữu Chí from HCM City's District 5 went to the city's Medicine and Pharmacy Hospital for a check-up that he booked online. Less than 15 minutes after the tests, the results were sent to his smartphone and the doctor's tablet.
Then he paid for the service using his ATM card thanks to the hospital's online payment system.
It took Chí a few hours instead of the whole morning to complete the check-up.
"I didn't have to wait long or bring paperwork. It was really convenient and quick," he said.
HCM City's Medicine and Pharmacy Hospital, which is one of the most crowded hospitals in the country, has pioneered the application of modern technology to shorten waiting times for check-ups and provide better services for patients. It has set a target of becoming Việt Nam's first smart hospital.
The hospital is using electronic records and communication systems to alert on drug allergies, pregnancies and other medical treatments.
The hospital would continue to apply technology in para-clinical appointments and the management of drugs and medical equipment and set up a block chain-based data centre with plans to transfer the technologies to other hospitals, Associate Professor Nguyễn Hoàng Bắc, the hospital's director, said.
Developing smart hospitals is a vision the health ministry is looking at in an effort to modernise healthcare services and create conditions for more patients to access medical services.
By 2030, Việt Nam is set to complete a smart healthcare system based on three pillars: smart hospitals, smart community healthcare and smart medical system management.
According to Tăng Chí Thượng, deputy director of HCM City's Health Department, smart hospitals are defined as the ones which apply technology in all of their activities to make healthcare process faster, more convenient and efficient. The final goal is to aim at patients' satisfaction and improve services.
In the context of hospital overcrowding, "only modern information technology can help remove complicated administration procedures and improve healthcare quality," he said.
When technology is applied, healthcare workers spend less time on unnecessary admin procedures and more time on patient care, Thượng said.
Doctor Nguyễn Minh Quân, director of Thủ Đức District Hospital, said technology helps simplify hospital management. The director does not have to be on site and can issue directions remotely.
What awaits
Although smart healthcare systems are a growing global trend, developing a smart database remains a challenge for Việt Nam.
Dr Trần Hùng from the ministry's Information and Technology Department said Việt Nam's legal framework for modern technology application in the healthcare sector remained vague, especially laws on data privacy. There was a high risk of patients' data being leaked as Việt Nam's infrastructure was not capable of storing growing personal healthcare data.
According to Tăng Chí Thượng, IT application in the Vietnamese healthcare had developed but was only meeting the basic demands. Among 100 public healthcare institutes in the city, only Thủ Đức Hospital had started using electronic medical records. Others such as Gia Định People's Hospital and Paediatrics Hospital No.1 had applied simple software to manage prescriptions and online medical appointments.
As part of a smart city plan that is being developed by HCM City's People's Committee, the city's Health Department has set up a healthcare database which includes block chain to manage electronic health records. This is expected to be a stepping stone to help the city hit its smart hospital and digitalisation targets in the healthcare sector. — VNS
Electronic healthcare records to be applied nationwide
HÀ NỘI — First-class healthcare facilities nationwide under the management of the health ministry are required to apply electronic healthcare records starting from next month, according to a circular issued by the ministry.
Other State healthcare facilities are required to apply the records before 2028.
According to the circular, electronic medical records must include information from old paper records and the signatures of people in charge of information accuracy.
Facilities must ensure personal information privacy as stated in the online information security law and update the records no later than 12 hours after patients have health checks or are hospitalised.
In case a check-up lasts more than 12 hours or a technical problem occurs, the deadline for recording updates is no more than 24 hours.
The electronic medical record application will follow two periods. From 2019 to 2023, first-class healthcare facilities must upgrade their systems to apply the technology. Other facilities should make preparations to get ready for the application.
From 2024 to 2028, all healthcare facilities across the country will have to replace paper medical records with electronic records. — VNS