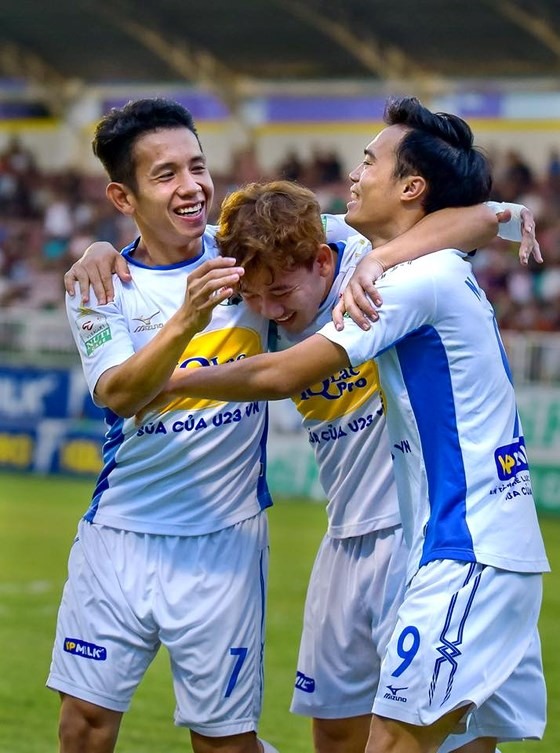 Hoàng Anh Gia Lai has seen many changes ahead of the 2019 season. — Photo sggp.org.vn
Viet Nam News
HÀ NỘI — Hoàng Anh Gia Lai and Thanh Hóa are seeing big roster and formation changes ahead of V.League 2019, which finished its player registration last week.
Of Hoàng Anh Gia Lai's (HAGL) four famous players, only midfielder Nguyễn Tuấn Anh is left. Defender Trần Hữu Đông Triều signed to Becamex Bình Dương, forward Nguyễn Công Phượng now plays for Incheon of South Korea and midfielder Lương Xuân Trường has joined Buriram of Thailand.
Thanh Hóa will also face a difficult transition after their sponsor ended its contract with the team. The divide started when forward Pape Omar Faye and goalkeeper Bùi Tiến Dũng joined Hà Nội Football Club. Later, midfielder Vũ Minh Tuấn joined Viettel, followed by defender Trần Đình Đồng, midfielder Ngô Hoàng Thịnh and Nguyễn Trọng Hoàng, who returned to Sông Lam Nghệ An.
On the contrary, Hà Nội are attracting attention because they have central defender pair Bùi Tiến Dũng and Quế Ngọc Hải, as well as midfielder Vũ Minh Tuấn. They are expected to draw fans to the field this season.
V.League 2019 will kick off on March 11. — VNS