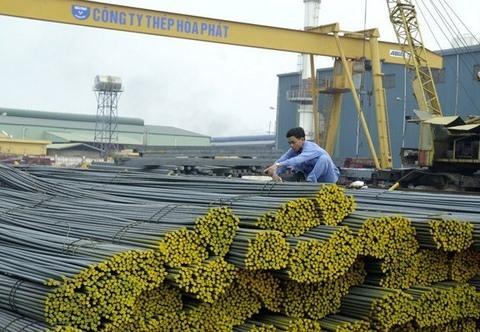 Hòa Phát is aiming for consumption of 3.3 million tonnes of construction steel in 2019. — VNS Photo
HÀ NỘI — Sales of Hòa Phát construction steel in the first month of this year hit 250,000 tonnes, a 27 per cent year-on-year rise and equal to record sales in October 2018.
Hòa Phát Group said steel sales in the central and southern regions accounted for 48,800 tonnes, with the rest in the northern region.
Its agents were stocking steel for construction after the Tết (Lunar New Year) holiday, it added.
The group's steel exports also saw high volume of 34,6000 tonnes last month. Of which, the US and Cambodia were the biggest importers with volumes of 12,000 tonnes and 11,772 tonnes, respectively.
Exports of high-quality coil steel wire accounted for 66.4 per cent of the total exported volume, mainly shipped to the US and Japan. The firm's steel exports to Japan last year were 20 times higher than that of 2017.
Hòa Phát is aiming for consumption of 3.3 million tonnes of construction steel in 2019 as its second steel rolling line of its Hòa Phát Dung Quất iron and steel production complex is expected to become operational by the end of this year.— VNS