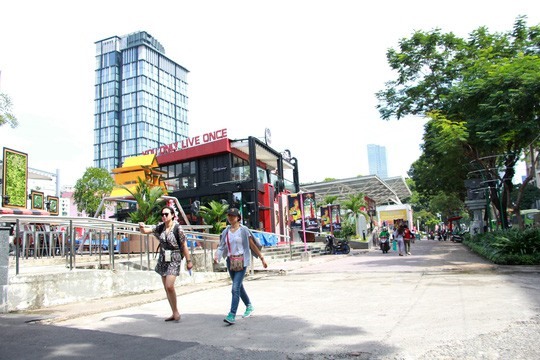 Visitors walk along the 23 September Park in central HCM City. The People's Committee has approved a plan to organise a design contest for detailed construction planning for the park. — Photo nld.com.vn
Viet Nam News
HCM CITY — The HCM City People's Committee has approved a plan to organise a design contest for detailed construction planning at a scale of 1:500 for the 23 September Park located in central District 1.
The contest will select the most feasible and creative design ideas for the 16-ha central park. Based on the selected design, the city will map out a project for construction of the park and other facilities.
Participating designs must meet the criteria for harmonious arrangement of greenery, lakes and public space, a public playground, a four-level underground for commercial and parking purposes, and streets and sidewalks surrounding the park.
The chairman of the city People's Committee, Nguyễn Thành Phong, recently asked the Department of Natural Resources and Environment to terminate leasing contracts at the park and move out parking sites, restaurants and other establishments before April 30.
The park's infrastructure is in need of repair, and public facilities such as lighting systems, toilets, playgrounds, and exercise and sport areas are limited.
The park, which is located on the site of the former Saigon Railway Station, is in the central part of the city near Phạm Ngũ Lão and Bùi Viện streets, which is a popular area for budget and backpacker tourism, Lê Lai and Nguyễn Trãi streets, and Bến Thành and Thái Bình markets. —VNS