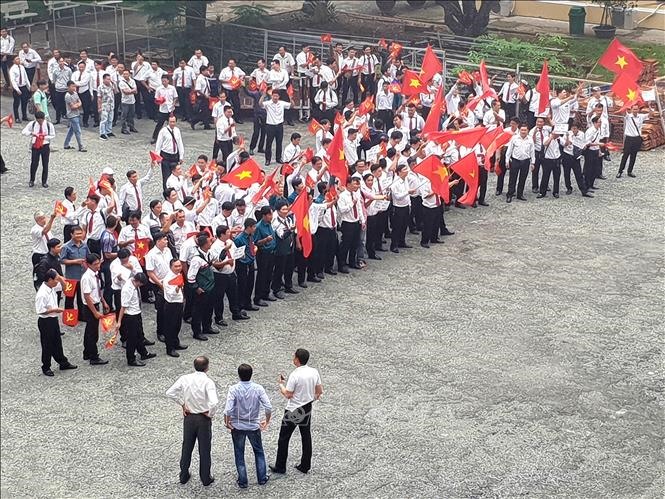 Viet Nam News
HCM CITY — The HCM City Superior People's Procuracy proposed that the HCM City Superior People's Court overturn the decision of the HCM City People's Court made in December that said ride-hailing firm Grab must compensate local taxi firm Vinasun for alleged losses the latter had allegedly suffered.
The HCM City People's Court had said that Grab should pay VNĐ4.8 billion (US$210,300) to compensate Vinasun and pay a VNĐ347 million ($15,100) fee for the work that Cửu Long Company did for Vinasun in assessing and calculating the taxi company's losses.
The compensation amount was much lower than Vinasun's demand of VNĐ41.2 billion (US$1.8 million), which it allegedly suffered during the 2016-17 period. Vinasun alleged Grab was the sole factor for its earnings decline after Grab began doing business in Việt Nam in 2015.
The HCM City People's Court in December also reaffirmed its decision made in October that Grab was guilty of predatory pricing and in violation of the Transport Ministry's Decision 24 on the pilot programme for contracted passenger transport.
In addition, Grab had claimed to be a technology firm, but Vinasun argued that Grab was a taxi transport company with a large number of drivers and that Grab had hurt local taxi companies' earnings by offering cheaper fares.
The Court said that Grab had violated Việt Nam's laws on transportation.
As the number of Grab cars began to increase, more Vinasun taxis were not being used, raising inventory and maintenance costs for Vinasun.
However, the city Superior People's Procuracy, in its decision yesterday, said that Grab had been allowed to pilot contracted passenger transportation under the Transport Ministry's Decision 24 and there had been no proof of violations made by Grab.
In May last year, Grab was granted a business licence for passenger transportation downtown, except for bus operations, from the HCM City's Planning and Investment Department. Grab followed all of Decision 24 instructions, the Procuracy said.
The Procuracy said that Vinasun had not provided evidence that proved Grab's violations were the only cause for Vinasun's losses.
Without such evidence, the Procuracy proposed that the Superior Court deny Vinasun's demand for compensation of VNĐ41.2 billion.
"The decline of Vinasun's turnover (if it had actually declined) might have been caused by many reasons, which weren't mentioned in the accumulative losses assessed by the Cửu Long Company for Vinasun. But Grab's passenger transportation did not violate the law.
"Vinasun's lawsuit does not have a legal foundation," the Procuracy said in its decision.
The lawsuit was initially filed by Vinasun 18 months ago. — VNS