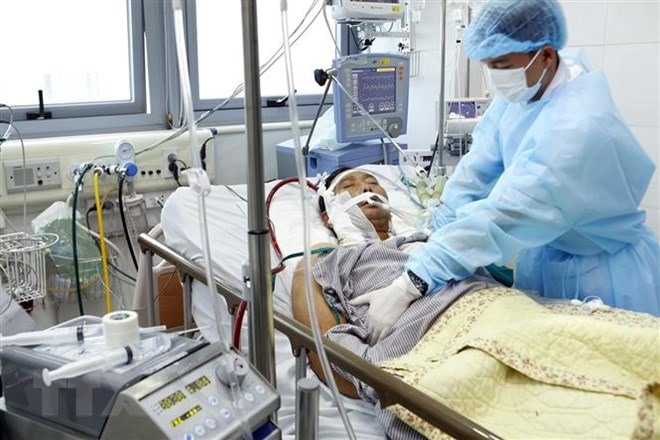 Viet Nam News
HÀ NỘI — The number of flu patients hospitalised has increased sharply for the last month, said Đào Xuân Cơ, head of Bạch Mai Hospital's Department of Intensive Care on Tuesday in Hà Nội.
Up to seven patients are in critical condition.
Two patients with influenza A/H1N1 are being mechanically ventilated and have a bad prognosis. Two others suspected of having A/H1N1 are waiting for test results.
Two weeks ago at the department, a 31-year-old woman in her 24th week of pregnancy with twins died of influenza A/H1N1. The unborn children also passed away.
At present, there are two male patients infected with influenza A/H1N1 and some others are suspected. They are all in severe conditions and isolated.
A 60-year-old patient from Hà Nội's Sơn Tây District who has a history of hypertension, for example, got dialysis and antibiotics. He is now undergoing mechanical ventilation.
Another patient aged 51 suffering diabetes caught the flu from his grandchild and has a poor prognosis.
According to Cơ, hospitalised flu patients tend to have severe illness such as diabetes, heart failure or pregnancy. As their immune systems are weak, they are more prone to the disease.
Influenza A/H1N1 is seasonal flu and can penetrate deeply into lung cells, causing pneumonia, multi-organ failure and even death if not treated promptly.
"Flu can occur at any time of the year. Some people get better after 3 to 5 days, some get worse. Therefore, flu patients with symptoms of coughing, breathing difficulty, chest pain for a few days without relief need to be examined and hospitalised," said Cơ.
A person infected with virus A/H1N1 can infect others a day before and up to seven days after symptoms develop.
The disease spreads quickly through direct contact with infected patients in crowded conditions.
Cơ warned people to cover their mouths and noses when coughing and sneezing, and wash their hands thoroughly afterwards to prevent virus from spreading.
People are also recommended to get flu vaccinations to avoid infection. — VNS