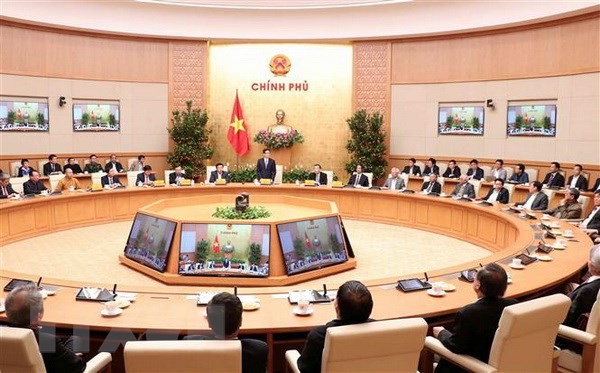 Deputy Prime Minister Vũ Đức Đam meets with 70 representatives in Hà Nội. — VNA/VNS Photo

Văn Điệp
HÀ NỘI — Deputy Prime Minister Vũ Đức Đam yesterday praised the efforts of scientists who are participating in projects in Việt Nam and in the development of the country's science and education sector while meeting 70 representatives in Hà Nội.
The projects include the research and compilation of work on Vietnamese History; the Encyclopedia of Việt Nam; the 'Digital Vietnamese knowledge system' project; the Vietnamese National Geographic project and the project on Translation and Promoting Values of Eastern Classic Masterpieces.
Chairman of the Việt Nam Association of Historical Sciences, Trần Đức Cường, said the research on Vietnamese history had a special meaning. It aimed to build a comprehensive and profound understanding on the country's past.
The project has so far drawn the participation of 300 domestic scientists and historians in different fields, he said.
Speaking on the compilation of the Encyclopedia of Việt Nam, vice chairman of the council steering the compilation, Nguyễn Quang Thuấn, said the Encyclopedia would reflect achievements and knowledge of humankind in general and Việt Nam in particular, at present and in the past as well.
It covers more than 70 specific subjects of different areas, including historical and cultural heritage, scientific achievements, technology, national defence, and economic and political activities.
The project is expected to draw 5,000-6,000 scientists and last 10 years.
The 'Digital Vietnamese knowledge system' project, an ambitious Wikipedia-like portal tailored for Vietnamese, comprises an open database providing information and data made public by ministries, agencies, localities, businesses, organisations and individuals; an archive collecting the world's knowledge translated into Vietnamese and Vietnamese knowledge that has been systematised for easy study and search at different levels, according to Deputy Minister of Science and Technology Bùi Thế Duy.
The project hoped to encourage and develop a passion for science and technology among the public, particularly young people, intellectuals and IT businesses, thus contributing to gradually develop the digital content industry in Việt Nam, he said.
In the context of the Fourth Industrial Revolution's strong impact on all fields, the project is also expected to create huge opportunities for innovative start-ups in Việt Nam.
Deputy PM Đam said these projects had a crucial meaning, falling in line with the country's policies of considering science and education a top national policy and contributing to the nation's economic development. — VNS