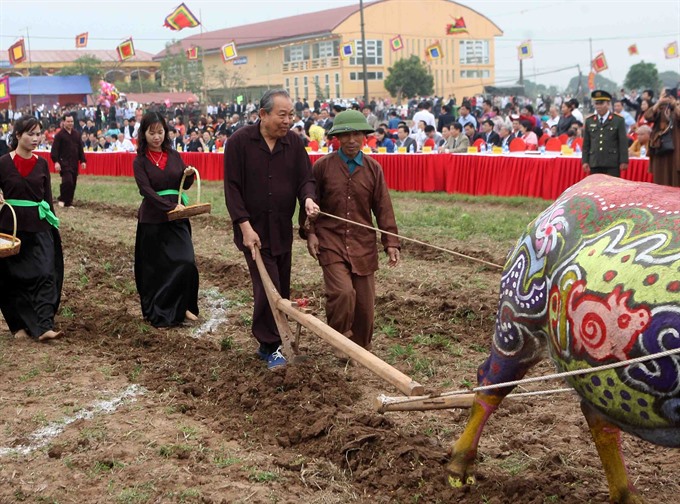 Viet Nam News
HÀ NAM – Deputy Prime Minister Trương Hoà Bình took part in a traditional ploughing festival to pray for a year of abundant harvests and prosperity yesterday at the annual Tịch Điền (Ploughing) festival in Đọi Sơn Commune, Duy Tiên District, the Hồng (Red) River Delta province of Hà Nam.
Speaking at the event, Bình stressed the development of Việt Nam's agriculture, from traditional cultivation to modern production.
In 2018, the sector witnessed 3.7 per cent growth, the highest level in the past seven years. This achievement not only ensured the nation's food security but also placed Việt Nam in the world's top 15 largest agricultural product exporters.
Progress has also been towards meeting new-style rural area standards. Up to 42 per cent of wards and 61 districts nationwide have met the standards.
Bình urged Hà Nam Province and other localities to restructure the agriculture sector, accelerate co-operation among enterprises, apply innovations in production and set up consumption chains.
In 2019, Việt Nam's agriculture growth goal is set at 3 per cent, which would see export value hit US$43 billion and achieve the 2016-2020 goal of building new-style rural areas ahead of schedule.
Tịch Điền festival, which dates back to year 987 during the Lê Dynasty, is held annually on the seventh day of the Lunar New Year.
King Lê Đại Hành started the ploughing festival in Đọi Sơn Commune to encourage farmers to cultivate rice.
The tradition was kept alive through many dynasties before ceasing under the reign of King Khải Định of the Nguyễn Dynasty.
Tịch Điền festival was restored a decade ago.
During the festival, processions of drummers and Lê Đại Hành's ancestral tablet from Long Đọi Sơn pagoda merge with processions from the village's guardian god and the father of Đọi Tam drum-making at the foot of the Đọi Mountain.
The march proceeds to the spot where King Lê Đại Hành used to plough, and then a ceremony is held to worship the God of Agriculture.
Traditional wrestling, drum performances and buffalo decoration are also part of the festival. – VNS