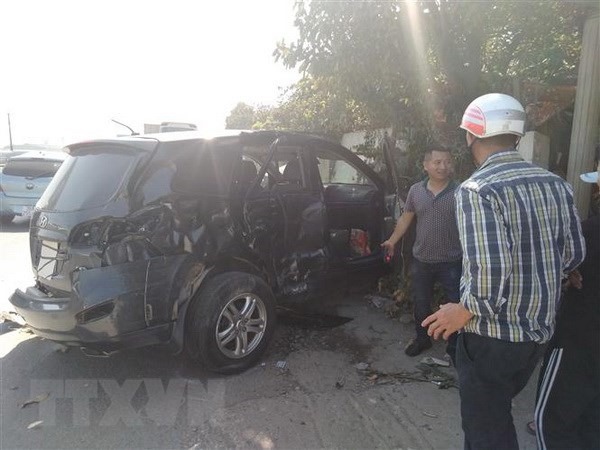 A seven-seater car was severely damaged. – VNA/VNS Photo Khiếu Tư
Viet Nam News
THANH HOÁ — Distracted driving led to a severe accident on February 8 (the fourth day of Lunar New Year), killing three people and injuring five others in Hoằng Quỳnh Commune, Hoằng Hoá District, Thanh Hoá Province police announced on Tuesday.
According to provincial police, a coach driver did not reduce speed as it approached an intersection, leading to a collision with a seven-seater car.
The investigation agency is working with the Việt Nam Vehicle Register to evaluate the coach's condition to decide whether to prosecute the case.
At 9.30am on February 8, a coach driven by Phạm Thế Đức from Quảng Ninh Province crashed with a car driven by Nguyễn Xuân Sơn from Thanh Hoá Province.
The accident left three passengers dead and five others in critical condition.
The three victims are Trần Hương Thảo, her husband Nguyễn Xuân Toàn from Đồng Nai District and her mother Lê Thị Nguyệt from Hoằng Hoá District, Thanh Hoá Province, all of whom were travelling in the car.
Both drivers tested negative for drugs.
According to the Ministry of Public Security, 183 people died and 241 others were injured in 276 accidents during the Tết (Vietnamese Lunar New Year) holiday from February 2 to 10, down 30.7 per cent in fatalities compared to last year.
More than 21,300 road safety violations were handled with some 4,000 vehicles and 2,900 driving licences seized. — VNS