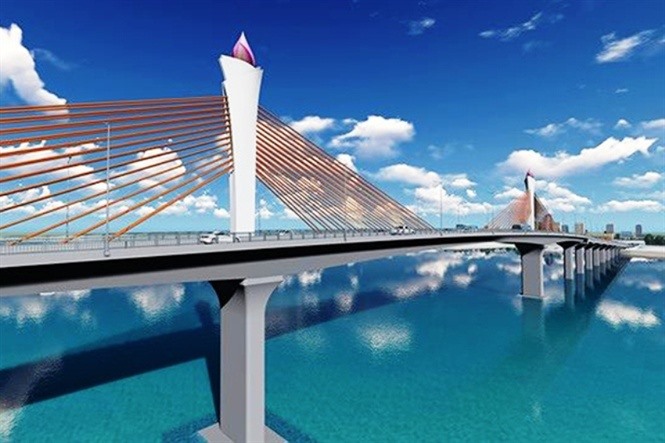 The perspective of the Cửa Hội Bridge. — Photo nongnghiep.vn
Viet Nam News
NGHỆ AN — Construction work on the Cửa Hội Bridge across the Lam River started on Tuesday in Cửa Lò Town, the central province of Nghệ An.
The project has total investment of VNĐ950 billion (US$40.9 million) from Government bonds and the Nghệ An and Hà Tĩnh provincial budgets.
The project has total length of 6.2km, of which the bridge span is 1.6km. The bridge is set to connect Cửa Lò Town of Nghệ An with Xuân Trường Commune, Nghi Xuân District of Hà Tĩnh.
Speaking at the launching ceremony, Minister of Transport Nguyễn Văn Thể said the bridge could bear great loading capacity and would be safe during floods.
Thể asked Nghệ An and Hà Tĩnh authorities to complete compensation for local residents and create good conditions for investors to conduct the project.
The Cửa Hội Bridge is scheduled to be completed in 18 months. After being finished, it is expected to improve the transport system between the two provinces, reduce traffic jams on Highway 1A and complete the transport system in the central northern region and promote development. — VNS