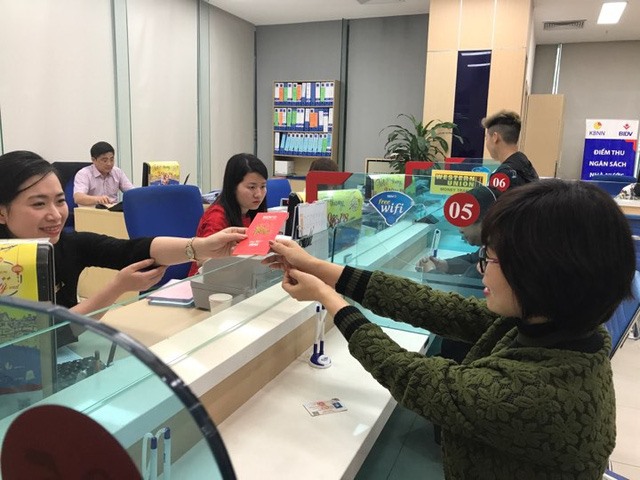 A bank officer gives lucky money to a customer on the first working day of the Lunar New Year. — Photo cafef.vn
Viet Nam News
HÀ NỘI — On the first working day after the nine-day Lunar New Year 2019 holiday (February 2-10), a number of banks launched promotions to attract depositors.
At the Saigon Thương Tín Commercial Joint Stock Bank (Sacombank), from February 11 to 16, when customers deposit at least VNĐ60 million (US$2,564) with a minimum term of six months, they will receive lucky money in cash valued at VNĐ39,000 or VNĐ68,000. With a deposit of VNĐ1.5 billion or more, customers will be given one tenth of a tael of gold.
The Saigon-Hanoi Joint Stock Commercial Bank (SHB) is also handing lucky money to the first 19 customers (individuals and organisations) that make transactions at the banks' counters.
At the Bản Việt Bank (Viet Capital Bank) from February 11 to 13, all customers who send saving money of at least VNĐ20 million will have a chance to get lucky gifts, receive lucky money of up to VNĐ100,000 or get a scratch card to win gold.
In Liên Việt Post Commercial Joint Stock Bank (LienVietPostBank), with savings from VNĐ50 million to VNĐ1 billion, customers will receive cash gifts from VNĐ25,000. They will receive up to VNĐ3.3 million if they deposit a minimum of VNĐ20 billion.
Besides giving away lucky money, the banks' Tết promotion programmes for customers reached several billion đồng. In addition to attracting customers, the lucky money is intended to bring hope, luck and success to both banks and customers in the Lunar New Year. — VNS